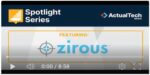 Zirous Brings 'Iowa Nice' To IT Services
When you're a U.S. Midwest-based IT services company, it might seem that you're at an immediate disadvantage against huge providers on the coasts. But Zirous doesn't see it that way at all. Headquartered in West Des Moines, Iowa, Zirous says it brings that "Iowa nice" attitude to everything it does, which gives it an edge.
Brandon Schulte, VP of Marketing Technology Services for Zirous, discussed what his company does with me during a Spotlight Series video. He said Zirous offers seven core competencies:
– Data Analytics
– Managed Services
– Marketing Technology
– Data Engineering
– Identity and Access Management
– Security Intelligence
– Service Oriented Architecture (SOA)
– Infrastructure, Cloud and Development
Schulte said Zirous "caters to companies that buy large software packages" to help their business, and need guidance on things like implementation and training. Zirous can become an extension of these client's IT department or just assist them for a time and get out of the way.
The whole video is available on our YouTube channel. To learn more about Zirous, head on over to Zirous.com.