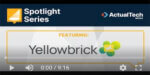 Why Data Warehousing Is Better in the Cloud
Traditionally, data warehouses have resided on-premises. This was fine, when there was much less data, and the world was not so massively connected.
But that's not the case anymore. There's a ton of data being created every minute, and lots of that data can be used by companies to improve their businesses. To harness that power, the cloud becomes necessary.
That's what Yellowbrick is doing today. Yellowbrick focuses on enterprise cloud data warehousing, explains Head of Product Marketing Umair Waheed. He discusses why this is a breakthrough with ActualTech Media Analyst and Webinar Moderator Scott Bekker in this Spotlight Series video.
Being a "SQL data warehouse in the cloud," as Waheed describes it, means being able to run large data analytics workloads faster and more efficiently than is possible on-premises. That helps organizations "maximize and extract the ultimate value from their data," he says.
Watch the whole interview to learn more, and visit Yellowbrick at yellowbrick.com.