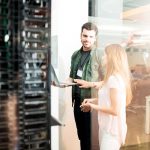 Featured, Virtualization Software, VMware
The Top 10 Most Important Features in VSphere 5.5
VMware announced important updates to their flagship product line this week – vCloud Suite – which includes the leading type-1 hypervisor, VMware vSphere. There is a LOT to get excited about with these announcements. After all, VMware wouldn't wait to announce vSphere 5.5 in front of 22,500 virtualization pros at their biggest trade show of the year if they didn't have some major new features to talk about, right?
Every VMware admin will want to read what follows — the top 10 features in the brand-new vSphere 5.5.
 Top 10 Most Important Features in vSphere 5.5
Unlike other software vendors, when VMware releases a new point release like 5.1 and 5.5, there are major new features packed inside and not just a bunch of patches boiled into a 'service pack' release. In other words, vSphere 5.5 is a significant feature release, and not a a run-of-the-mill release.
Let's jump right into the most important features of vSphere 5.5. I'll throw in a couple of vCloud features as well because they really are that exciting:
#1 VSAN available in vSphere 5.5 for auto provisioning of local storage
VMware's expansion into Software Defined Storage (SDS) is the new Virtual Storage Area Network (VSAN) available with vSphere 5.5. VSAN is actually a feature of the vSphere/ESXi hypervisor that can be enabled to provide redundant and fully supported storage across the local disks of up to 8 of your existing ESXi hosts. Those hosts will need both traditional and unused local disk as well as local SSD drives reserved for the use of VSAN. Also, this technology is capable of automatic provisioning of local storage since you add it to the cluster for ease of deployment. VMware says that primary use cases will be for VDI, test/dev, big data, and a disaster recovery target. While the feature set is built into ESXi, the VSAN functionality will be sold as a standalone offering, and not included with, for example, a vSphere Enterprise Plus license. The VSAN beta is in public beta and available at – VSANbeta.com.
#2 Flash Read Cache solution launched for read-intensive workloads
With server-side, host-based caching a hot topic at VMworld 2013, VMware now offers their own solution (competitive with Promixal Data, Pernixdata, and Infinio). VMware's Flash Read Cache [KG2] is a read-cache that requires local SSD on each host where it is enabled. It's fully supported by VMware for applications like vMotion, HA, and DRS and transparent to the VMs and apps that use it. This technology allows for a write-through of data so the write traffic doesn't not impede with the effectiveness of the cache. This solution will be strongly positioned for read-intensive workloads such as VDI.
#3 vCSA improvements allow scaling up to 500 hosts and 5000 VMs
In vSphere 5.5, VMware continues to push admins to use the vCenter Server Appliance (vCSA) by making it more marketable than ever before. With vSphere 5.1, the vCSA scaled to just 5 hosts and up to 50 virtual machines. This limitation alone knocked it out of consideration for serious vSphere admins. Now, with vSphere 5.5, the vCSA scales up to 500 hosts and up to 5000 virtual machines with the embedded database. Additionally, another improvement is the new vSphere Update Manager (VUM) plugin for the vSphere Web Client.
#4 vSphere Web Client speeds up with new navigation and filtering features
Likely the single feature that you will notice every day by using vSphere 5.5 is the incredible speed of the vSphere 5.5 Web Client. Unlike previous versions of the web client, the new client is fast and a pleasure to use. In addition to the speed, there are a number of new navigational and filtering features. The web client will also boast the ability to effectively manage the new 62TB VMDK file management capabilities, as well as provide drag and drop ease to the administrator's daily workload.
#5 vSphere replication compatibility improvements
With vSphere 5.5, VMware has made numerous improvements to their software-defined replication solution, originally introduced in vSphere 5. Enhancements to the per-VM replication solution include compatibility with Storage vMotion and Storage DRS, selective multiple-point in time recovery and the option to have up to 10 vSphere replication appliances per vCenter server. This allows for greater architectural freedom by not requiring a 1:1 pairing of VR with vCenter at each site. SRM is also updated to support all the new vSphere Replication features, including multiple point in time recovery.
#6 Single Sign On (SSO) streamlined to reduce confusion
VMware's Single Sign On (SSO) service that was required to be used with vSphere 5.1 was problematic in many cases. In vSphere 5.5, VMware has streamlined this required service to reduce confusion and allow upgrading from vSphere 5 and 5.1.
#7 vApp HA now monitors and reboots applications or VMs if needed
A new feature in vSphere 5.5 is the ability to monitor applications running inside vSphere VMs, restart the applications when/if they fail, and restart the virtual machines if needed (through integration with vSphere HA). This configuration will also respect current affinity and non-affinity rules within the vSphere cluster for greater architectural freedom in workload design.
#8 vCenter Orchestrator now includes workflow debugger, health check, and auto-alerts
In order to help admins automate their virtual infrastructure, VMware has made significant improvements to vCenter Orchestrator with vSphere 5.5. Those improvements include greater scalability and availability for vCO to allow it to scale with the cloud, which includes integration with vCloud Automation Center. Additionally, there are new usability features including a workflow debugger, health check, and auto-alerts.
#9 vCloud Director gets shiny new features
VMware continues to focus major development efforts on vCloud Director and it's clear that the functionality of vCD is where the future of VMware lies. New with the vCloud Director 5.5 (sold in the vCloud Suite), there are numerous new features related to vApp lifecycle management, Open Virtualization Format (OVF) import/export, the option to clone a VM and preserve memory state, and the option to add or modify virtual hardware on a VM that was created from a template.
#10 vCenter Multi-Hypervisor Manager (MHM) now supports Windows Server 2012
Now in version 1.1 with vSphere 5.5, while not widely known, MHM now offers support for managing Windows Server 2012 Hyper-V hosts and the option to perform a cold migration from Hyper-V to vSphere.
We aren't just talking about a bunch of bug-fixes here. Overall, both vSphere 5.5 and the vCloud Suite 5.5 are feature-rich new releases. I have tested the 5.5 beta in my lab for some time and enjoy using these new features – especially the fast vSphere web client in vSphere 5.5. As soon as the general availability release of 5.5 is available for evaluation, I encourage you to download vSphere 5.5 and start using it in your lab environment. I think that you'll be impressed!
Summary
The new vSphere and vCloud updates offer customers both requested features (like greater performance in the web client) as well as unexpected new datacenter functionality (like vFlash and AppHA). My recommendation is to learn about the new vSphere 5.5 features and how you can leverage them in your vSphere infrastructure. In doing so, you can get your virtual infrastructure current to prepare for the convergence of vCD and vCenter in 2014.
Editor's Note:  This article here first appeared on the Softchoice blog and is republished here with their permission.