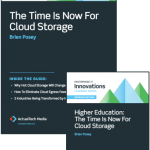 ATMCOMIO
Ripcord Unleashes Robots to Transform Your Paper Documents
In recent years, enterprise-class organizations have been increasingly finding that big data analytics is allowing them to capitalize on business insight that's hidden within their seldom-used data. One factor preventing such processes from being as effective as they could be, however, is the overall availability of data: Large organizations commonly have vast amounts of data that they can't leverage, because the data only exists on paper. Digitizing paper records and incorporating the data into online systems may allow organizations to grow their revenue by capitalizing on previously unused data.
There has been a decades-long push toward transforming the enterprise into a paperless environment, but extracting data from paper records has proven to be extremely challenging. Historically, scanning documents has been a time-consuming, manual process. Even after the documents have been scanned, optical character recognition (OCR) software must be used to extract text from the document. Once the raw text has been extracted and checked for errors, it must be put into a format that allows the data to be imported into business systems.
How Robotics and AI Can Transform Your Paper Documents into Valuable Data
Ripcord, a robotic digitization company based in Hayward, Calif., helps enterprise-class organizations with their digital transformation efforts by scanning documents on their behalf. Documents are scanned at 1,000 DPI, then stored in the Amazon cloud where their contents are readily accessible. The accessibility of this content and data also makes it easier for companies to enable RPA (robotics process automation) solutions.
Although there are several companies that provide document scanning services, Ripcord's approach to the process is completely unique. Unlike its competitors, Ripcord's document scanning process leverages the use of advanced robotics. This means that Ripcord's customers never have to worry about a document being destroyed by a paper jam—the robots have been specifically designed to be able to safely handle even the most delicate documents.
Another advantage to Ripcord's use of robotics is that the robots allow Ripcord to work beyond human scale: the company routinely scans tens of millions of documents for its customers.
Ripcord's use of robotics allows the company to maintain an extremely tight chain of custody over the documents in its possession. At any time, Ripcord can identify the precise location of any of the individual documents it's digitizing.
As important as scanning and extracting data from paper documents may be, putting that data into a usable format is as important. Ripcord accomplishes this with smart content management and AI. They provide digitally native and automated processes that not only manage contemporary data, but enrich historical data that remains confined to paper. Software bots use AI and machine learning to extract and classify metadata, enrich data and drive business processes to achieve optimal decision making and solutions.
Ripcord already has a process in place for extracting document data and making that data available to customers at a fair price; and in an effort to further elevate its capabilities, Ripcord is introducing three brand-new features into a new version of its Canopy interface, scheduled to be released in early 2020.
The first of these new features is a geo-location map view. Enterprise data often pertains to a specific geographic location. Banking records, for example, might reference transactions that were made at a specific branch. Similarly, an oil and gas company's data might pertain to specific wells. Regardless of the vertical industry, Ripcord's map view feature will allow enterprise organizations to segment data based on geographic location.
The second feature being added to its Canopy platform in 2020 is a taxonomy view. The taxonomy view eliminates the challenges associated with managing folder data by turning scanned documents into structured data. Hence, document details such as location, department, invoice number, or hire date can be indexed in a meaningful way. As with any other structured data source, customers will be able to perform complex queries against the data extracted from scanned documents.
The third feature Ripcord plans to introduce next year is a large format viewer. While it's easy to think of scanned documents as consisting mostly of forms (invoices, purchase orders, enrollment forms, and so on), organizations very often have a wide variety of paper documents in their possession. The large format viewer will make it easy to pan and zoom high-resolution scans of documents containing graphical images. This capability will be especially useful for examining schematic diagrams, blueprints, and engineering drawings.
Client Successes
Ripcord's innovative approach to document digitization has already led some of the world's largest and most recognizable companies to choose Ripcord. One such company is Coca-Cola Bottlers' Sales and Service (CCBSS), which handles fulfillment for Coca-Cola.
CCBSS has commissioned Ripcord to digitize documents on behalf of 72 bottlers across the United States, Canada, and Mexico. Through this agreement, Ripcord will be digitizing 25 million proof of delivery documents per year. Because the document digitization will eliminate cumbersome manual processes and allow for the consolidation of multiple vendors, CCBSS estimates that its use of the Ripcord service will result in a savings of $1 million annually.
Another high-profile company that's enlisted Ripcord's services is MUFG Bank, the largest bank in Japan. Through a multi-year contract, Ripcord will digitize all of the bank's Hanko documents (which are used to identify customers in the Japanese banking system). These documents, which currently occupy hundreds of millions of sheets of paper, will be automatically scanned and digitally transformed, making the information available for use by the bank's branches. For the first time, customer data will be instantly accessible.
If you're like most companies, you have valuable data stored away in forms, invoices, customer information, and other crucial paper documents. Why let it stay there, letting profits slip away, when you could turn it into a gold mine of information that can open up new opportunities?
When you're ready to unlock the potential of your paper by transforming it to useful data, visit Ripcord at ripcord.com.