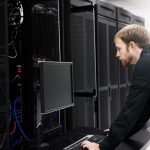 Enterprise Storage Guide, Featured, News
Pure Storage and the Missing Power Button
Over the years we have all had exposure to hardware for storage environments that was explicitly built to handle operational failures from the environment by adding redundancy high availability features in the products. Physical power failures are always the enemy of storage infrastructure because every manual will tell you of the multi-step, ordered shut down instructions.
How Sure? Four Times Sure
What Pure Storage has done in their FlashArray product is to build a process where the host is only made aware of the committed write once it is stored in not one, but four places. With the speed of Flash, and the Pure architecture, this allows for redundancy and reliability without sacrificing significant I/O latency at write.
Know Your Enemy – How Does Your Storage Survive Power Loss?
Regardless of your storage platform, it is absolutely imperative that you have an understanding of the failure scenarios including a sudden, complete loss of power. You'll note that the operational cost of 99.999% (aka Five-9) uptime over 99.99% is significant. Plus it should be noted that there aren't many data center environments who give a 100% uptime. Even if they do, read the fine print because all they are guaranteeing is the financial commitment of uptime. In the event of a real outage you will at best get a discount on your hosting.
This blog post creatively explains the reasoning for the lack of a power button on a Pure Storage array. Enjoy!