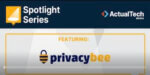 Privacy Bee Reduces Your Employees' Risk of Exposure
According to one statistic, 82% of all corporate breaches start as a social engineering or spearphishing attack. If that number scares you, you're not alone. And that's where Privacy Bee comes in.
In this Spotlight Series video, Arnez Edwards, Data Privacy Advocate, Privacy Bee, talks with ActualTech Media Analyst and Webinar Moderator Scott Bekker about the privacy challenges that all organizations face these days.
"Addressing your employees' PII [personally identifiable information] is definitely something a lot of front-facing organizations are looking at now," Edwards says. That's because the compromise of that information can have multiple negative effects—decreased security is a big one, but there's also increased targeting of employees by spammers, scammers, and even headhunters looking to hire them away from your company.
In other words, this is big deal, and Privacy Bee believes that you're likely unaware of just how exposed you are. Click here to watch the whole video, and check out Privacy Bee at its website.