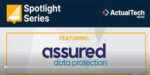 Plug-and-Play Peace of Mind with Assured Data Protection
Corporate IT is tasked with "doing more with less" these days. That's hard to do, especially when it comes to something as critical as data protection, including backup, redundancy, and Disaster Recovery-as-a-Service (DRaaS).
That directive has helped drive the rise toward managed service providers, or MSPs, who do the job for you, unloading the burden from your staff. One example of an MSP who provides comprehensive data protection is Assured Data Protection, and they joined ActualTech Media Analyst and Webinar Moderator Scott Bekker for a Spotlight Series video.
Stacy Hayes, Co-Founder & EVP of Americas for Assured Data Protection, noted that his company has partnered with Rubrik, one of the industry leaders, to offer its services to companies that want to outsource the heavy burden of data protection.
Assured Data Protection offers 24/7/365 availability, which is a necessity in today's environments. To see how they can help solve your data protection issues, visit the company on the web. And click here to watch the entire interview.