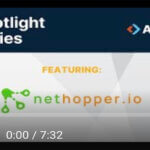 Nethopper Connects Containers Across Multiple Clouds
There's a dirty little secret in multi-cloud environments: Kubernetes, the container orchestration platform, doesn't work across multiple clouds. That's something many IT pros don't know, and it can complicate your cloud-native journey.
As Chris Munford, Founder/CEO of Nethopper, tells ActualTech Media's Scott Bekker in this Spotlight Series video, "Kubernetes is not multi-cloud capable. So what people find out in their 100 clouds is that they need to set up 100 Kubernetes clusters. And one (Kubernetes cluster) is really difficult, so 100 is virtually impossible."
Enter Nethopper, which calls its magic "multi-cloud application networking." Munford explains that Nethopper allows containers to communicate with each other across multiple clouds, solving one of the biggest hurdles multi-cloud Kubernetes faces—how do containers in these Kubernetes clusters talk to each other?
Watch the whole video for more.