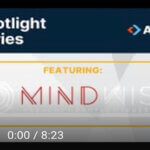 MindWise: Monitoring the Dark Web To Keep You Safe
MindWise makes a bold claim on its website: Stop Fraud Before It's Even Attempted. It's the kind of claim that companies don't make lightly. And MindWise says they can back it up.
In this Spotlight Series video with ActualTech Media Events Moderator Jess Steinbach, Co-Founder/CEO Tobin Shea explains that MindWise uses an AI-powered "Dark Web" surveillance engine to provide cybersecurity and fraud prevention to customers.
By focusing on the Dark Web, where so much illegal activity gets its start, MindWise gets a "jump start," if you will, on things like credit card fraud, data breaches, and employee credential security. It uses sophisticated AI to spot issues before they turn into huge headaches.
Watch the entire video on YouTube, and find out more at Mindwise.io.