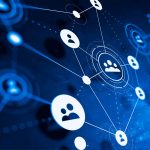 Featured, Virtualization Software, VMware
Lauren Malhoit: My VMworld 2013 Impressions
Last week I attended the 10th annual VMworld, the mantra of the week was "Defy Convention." I thought I'd compile some of my takeaways to compliment David's VMworld day one and day two wrap-up posts.
I'm not sure that's exactly a true statement as we've been hearing about many of these technologies at the last few VMworlds, but I would say that they seem more tangible now.  They announced vSphere 5.5 which among other things should be easier to install and offer less grappling with the SSO piece.  For more information on vSphere improvements with vSphere 5.5 check out Chris Wahl's vSphere 5.5 Improvements series at http://wahlnetwork.com/2013/08/26/vsphere-5-5-improvements-part-1-the-new-hotness-in-esxi-5-5/.
vCloud Hybrid Service (vCHS) also became generally available on August 26th to the US.  With the acquisition of Nicira several months ago we've all been waiting for NSX to come to fruition and it seems like NSX was a part of every session I attended.  It's exciting stuff and I'm looking forward to seeing more about the technology…though it's only available in beta now.
The Keynotes
So, let's get into the keynotes.  I honestly didn't attend the first keynote in person given by Pat Gelsinger, CEO of VMware, and after hearing the responses later I inferred that I hadn't missed much.  None the less, I decided to watch the video before writing this blog, which you can find here: http://www.vmworld.com/community/conference/us/learn/generalsessions.  About a half hour into it we finally get to the buzzword Software-Defined-Datacenter (SDDC).  Gelsinger goes through the four pillars of the SDDC according to VMware: compute, storage, network, and management.  It wasn't horrible, but we've definitely seen better in past years.
I did attend Tuesday's keynote given mostly by Carl Eschenbach, COO of VMware.  Eschenbach concentrated on how IT should enable the business and IT innovation.  The three main points of his presentation can be seen here: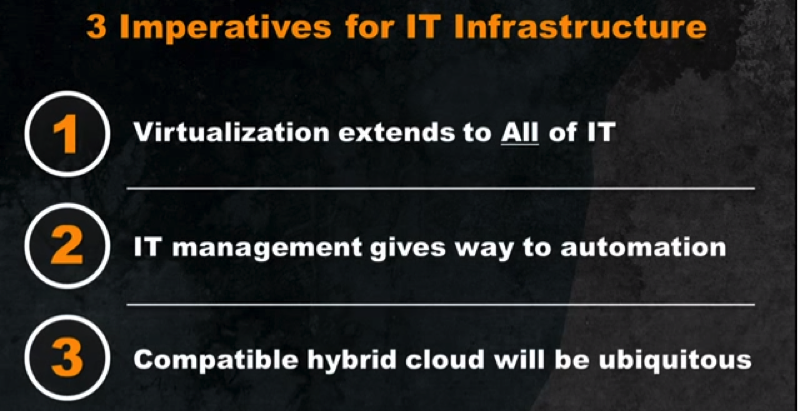 I think the second keynote could have gone the way of the first, but then Kit Colbert, a Principal Engineer for VMware, was brought out and did a great job.  Although a little corny and scripted, it was a great presentation mostly about automation, specifically vCloud Automation Center.  Given the amount of time spent on vCAC (http://www.vmware.com/products/vcloud-automation-center) and some of the features getting built in to vSphere it seems that vCloud Director will no longer be a focus at VMware.  I might even conjecture, and I wouldn't be the first, that vCD may be going the way of Lab Director.  It was also revealed that vCenter Operations and vCAC would be bundled with most of the vCloud suites, which was really exciting news in my opinion.  I think VMware is doing it right by giving more people access to these awesome technologies.
The Sessions
As for the sessions at VMworld 2013, they were a bit of a crapshoot as always.  I imagine it's difficult to find the right balance of technical content for almost 23,000 people.  This is only my second time attending VMworld and I've also had the pleasure of attending VMware Partner Exchange.  It always seems like there's a lot of marketing or just very basic tech in a lot of these sessions.  There was a five or six part series on vCHS, which was probably awesome, however it also meant you basically had to spend your entire VMworld in vCHS sessions.  I'm looking forward to watching the videos when they are finally released.  If you're looking for video content that is already available check here (http://www.vmworld.com/community/conference/us/learn/top10).
I did attend a great session given by Jonas Rosland (@virtualswede) and Magnus Nilsson (@swevm).  They did live demos of using vCenter Orchestrator, Puppet's Razor, and EMC's ViPR to provision entire environments (in this case for use with Project Serengeti – AKA Big Data).  It was pretty bold doing a live demo while VPNd to a lab in Sweden from San Francisco.  Just a tip to future speakers, though, everyone loves a live demo!
The Networking
Now let's get to the real reason everyone goes to VMworld or any convention for that matter…the networking.  I'm not only talking about the parties, although there were some great ones.  VMware brought in Imagine Dragons and Train for their customer appreciation party and according to John Troyer of VMware it was the best one yet.  The vExpert/VCDX wasn't too shabby either.  Everyone there was interested in sharing knowledge and contact information.  I was lucky enough to be picked as one of seven EMC Elect people who would attend sessions and encourage discussions within these sessions (with some help of gift cards).  Being a vExpert and part of the EMC Elect has definitely been integral to my networking.
I also attended the Women of Purpose event where we heard from panelists Diana Bolden, CIO of Teradata, Carla Moradi, Group VP & CIO of Enterprise Shared Services at Walgreens, and Margaret Shorten, VP of Engineering at TD Bank Group.  We also networked with several hundred other women who work with or for VMware in some way, shape, or form.  I got to meet up with several of the ladies who've been on my podcast, AdaptingIT.com.  At the bloggers tables and in the HangSpace in general it was hard not to meet people and some of the best minds in our industry were always around writing blogs, recording podcasts and videocasts, and just hanging out.
VMworld is always a great event.  It seems to get bigger and better every year.  It's almost miraculous they're able to organize and enrich the careers of almost 23,000 geeks!  Even though there are always a few things I would change, I would never give up the opportunity to go.  I'm writing this two days after the 7 hour plane ride home to the midwest. I'm still exhausted, my head still hurts from the fire hose of information I took in, and I can't wait to go back again next year.