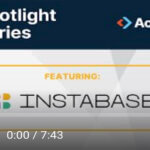 Instabase Unlocks Your Unstructured Data
When you look at your paycheck, you don't need to translate that into an understandable format—your brain already does that instantly, and knows how to read the information.
That same idea is what Instabase does with the unstructured data in your organization. In this episode of Spotlight Series, ActualTech Media Analyst/Host Scott Bekker talks with Instabase Strategic Engineer Matt Weaver about how the product works, and how it can solve huge data problems.
Instabase uses deep learning technology to "read and understand information just like a human brain would," Weaver explains. It will know whether it's reading a Word document, email, or other piece of unstructured data, and process that data to enable actionable insights for your company.
Instabase works on-premises or in the cloud—basically, wherever you've got data, it'll work. Go to their homepage to learn more. Click here to watch the entire interview.