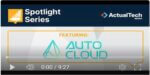 AutoCloud: Taking the Hassle Out Of Multi-Cloud Management
"All the (public) clouds are subtly different," says Tyson Kunovsky, Co-Founder and CEO of AutoCloud. He's simply echoing what every organization that uses more than one public cloud knows. Amazon Web Services doesn't do storage the same way Microsoft Azure does, for instance, and Google Cloud Platform has their own way. It can quickly become a mess to deal with.
His company's value proposition is the answer to that. "The overall complexity of managing all these different cloud platforms—AutoCloud unifies and simplifies this." Kunovsky spoke to me on this episode of ActualTech Media's Spotlight Series, laying out the case for the importance of a new way to do multi-cloud management.
AutoCloud offers single-pane-of-glass management and rock-solid security, relying on a high level of automation to work its magic. That makes sense, since complexity is consistently brought up as the biggest challenge when moving to a multi-cloud environment.
Find out more about AutoCloud at autocloud.io. Click on the video above to watch the entire interview. And check out all our videos on our YouTube channel.