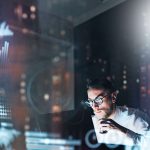 Podcast
095 – The Next Revolution: Networking at the Edge
IT infrastructure has broken through. It's no longer in an on-premises walled garden—data, applications, and hardware can live anywhere. That means new opportunities for business, but it also brings new challenges, especially when it comes to tying all these newly-disparate pieces together.
That's where edge networking comes in, and that's the topic of this "10 on Tech" episode with ZPE Systems. John Paul Kang, ZPE Solutions Architect, joins ActualTech Media Partner James Green for an eye-opening discussion of how edge networking can transform your IT operations.
Edge networking ensures that all your various systems can quickly and reliably communicate with each other, even if they're thousands of miles away. It also allows you to update, manage, and maintain your network with minimal or even no staff onsite. It's an episode you don't want to miss.
Highlights of the show include:
Edge computing vs. edge networking
Why businesses are moving to edge networking
Challenges in building and maintaining edge networks
Defining zero-touch provisioning, and its importance
Real-world examples of customers who have saved time and money by implementing ZPE edge networking solutions
Resource links from the show:
ZPE Systems homepage — https://www.zpesystems.com/
What is zero-touch provisioning? — https://www.zpesystems.com/what-is-zero-touch-provisioning/
ROI calculator — https://www.zpesystems.com/roi-calculator/
Enterprise networking survival guide — https://www.zpesystems.com/resources/media-library/ebooks-whitepapers/enterprise-networking-survival-guide/
We hope you enjoy this episode; and don't forget to subscribe to the show on iTunes, Google Play, or Stitcher.­