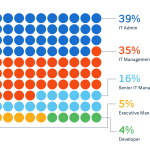 Podcast
073 – It's Midnight: Do You Know Where Your Data Is?
So, you've got lots of data, and it's stored here, there, and everywhere. How do you manage it all? And beyond that, how do you put it to use in your environment, to do business-enhancing things like artificial intelligence and machine learning?
That's what this episode of "10 on Tech" is about. ActualTech Media Partner James Green talks with Alluxio CEO Steven Mih about the growing problem of data being scattered all over, and the challenges that creates for data scientists and companies wanting to harness it.
Alluxio specializes in collecting that data and acting as the go-between between between it and the apps that work on it, like Apache Spark, Presto and Tensorflow. Mih also talks about how his company simplifies your data operations.
Highlights of the show include:
The sources of the data explosion
What extraction, transformation, and loading (ETL) is, and why it's becoming outmoded
How data orchestration has improved on ETL
The problem of dealing with multiple copies of data
What Alluxio does
How Alluxio is deployed
Resource links from the show:
Alluxio — https://www.alluxio.io/
Tutorial: Amazon Machine Image (AMI) — https://www.alluxio.io/products/aws/alluxio-presto-sandbox-aws/
Tutorial: Docker — https://www.alluxio.io/alluxio-presto-sandbox-docker/
Alluxio free trial — https://www.alluxio.io/download/
We hope you enjoy this episode; and don't forget to subscribe to the show on iTunes, Google Play, or Stitcher.­