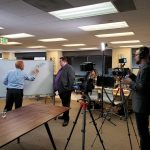 Podcast
047 - IT Changes: It Doesn't Mean Your Job Is Going Away
IT moves fast. That's not news. But these days, it seems to be moving faster than ever. Where it's going, and what it means for your career, is a question that needs answers. That's why this episode of "10 on Tech" features one of the industry's most knowledgeable analysts, Wikibon's Stu Miniman.
Stu chats with ActualTech Media Partner James Green about the natural fear that IT employees have when it comes to new technologies possibly obsoleting their jobs. Stu discusses how to make sure that doesn't happen to you, among other topics.
Highlights of the show include:
The changing role of IT workers
How digital transformation will transform jobs
The importance of getting re-skilled to stay relevant
Ways that the cloud is changing
The rise of edge computing
Resource links from the show:
Wikibon – https://wikibon.com/
Stu Miniman bio — https://wikibon.com/author/stu/
Silicon Angle — https://siliconangle.com/
Managing the Multicloud — https://siliconangle.com/tag/multicloud-special-report/
We hope you enjoy this episode; and don't forget to subscribe to the show on iTunes, Google Play, or Stitcher.