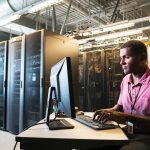 Featured, News, Virtualization Software
Welcome VMware to the Jersey Shore: vCHS Opens a New Jersey Data Center
This is definitely not the reality show that you would expect, but it is a strong move by VMware to continue to expand their vCloud Hybrid Service footprint by opening up their latest data center in the North-East region.
As we announced a little while ago, there is a new pricing and contract model coming into place in the fall, and along with this, the growth of the DaaS (Desktop-as-a-Service) and DRaaS (DIsaster Recovery-as-a-Service) will be probably see some more innovation in the coming months as well.
Feature Parity and More Resources
Unlike many on-demand data center offerings, the VMware vCHS provides all functionality in each of their data centers. This isn't to say that it is a direct shot at competitors, but the VMware model is to grow like-for-like offerings in the regions to provide a seamless service extension of your on-premises VMware infrastructure.
This is big news for VMware and signals that they are staying aggressive on their growth model. While we may not have full transparency into the financial implications, we can assume that there is customer growth that is able to feed this expansion.
Read up here on the VMware announcement and sign up for an account a vcloud.vmware.com to try the service for yourself.