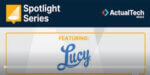 Lucy's 'Answer Engine' Saves Companies Time and Money
On its website, startup vendor Lucy defines its mission simply: Lucy solves a problem businesses have been grappling with for years – how to effectively manage all of the information living across different systems and file types.
Luke Burns, Director of Customer Success for Lucy, elaborates on that mission in a Spotlight Series interview with ActualTech Media Analyst and Webinar Moderator Scott Bekker. Lucy, he says, liberates the knowledge that an organization has and serves as an "answer engine" for its employees.
Lucy estimates that employees spend 20% – 30% of their workdays looking for information: through shared drives, asking colleagues, or recreating assets or reports that already exist. By finding the requested information instantly, all that time can now be dedicated to more productive work.
How much time is saved? Lucy says that companies save 600 hours per month per 100 employees. That's huge. Watch the video to learn more, and visit Lucy on the web.