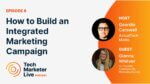 How to Build an Integrated Marketing Campaign
Show Notes
Replay from a recent webinar with ActualTech CMO Geordie Carswell and Cybersecurity Marketing Society co-founder Gianna Whitver
Wondering how you can get started in creating an integrated cybersecurity marketing campaign?
Successful campaigns create a strategy and plan that connect the content and demand generation tactics that ensure real results.
So, which channels should you leverage for cybersecurity audience?
What should you measure and report on?
How do you collaborate and navigate the organizational challenges that always seem to arise?
The webinar outlines the frameworks and considerations you need to put together to architect a successful integrated campaign.
This discussion includes:
Frameworks for how to build a full-funnel, integrated cybersecurity marketing campaign
Repeatable and scalable process that drive results from awareness to revenue
Details on what you really need to measure, why it matters, and how to report on it
How to get internal alignment and collaborate so everyone can shine.