Weaveworks
Weaveworks and the Concept of 'GitOps'
If you spend any time in IT, you've heard of DevOps. You've probably also heard other "Ops" variations, including DataOps, SecOps, and DevSecOps. Well, here's one you likely haven't come across, but one that will become more and more important going forward: GitOps.
GitOps was coined by the company Weaveworks, and it's described by CTO Cornelia Davis as a way to bring reliability to something that's "fundamentally unreliable:" namely, cloud-native environments that are highly distributed and constantly changing.
Davis discussed how Weaveworks does its magic this in this Spotlight Series discussion with ActualTech Media Partner James Green. Weaveworks leverages Kubernetes principles, which are about "constantly reconciling what's happening in real world with what you've declared you'd like to happen in the real world."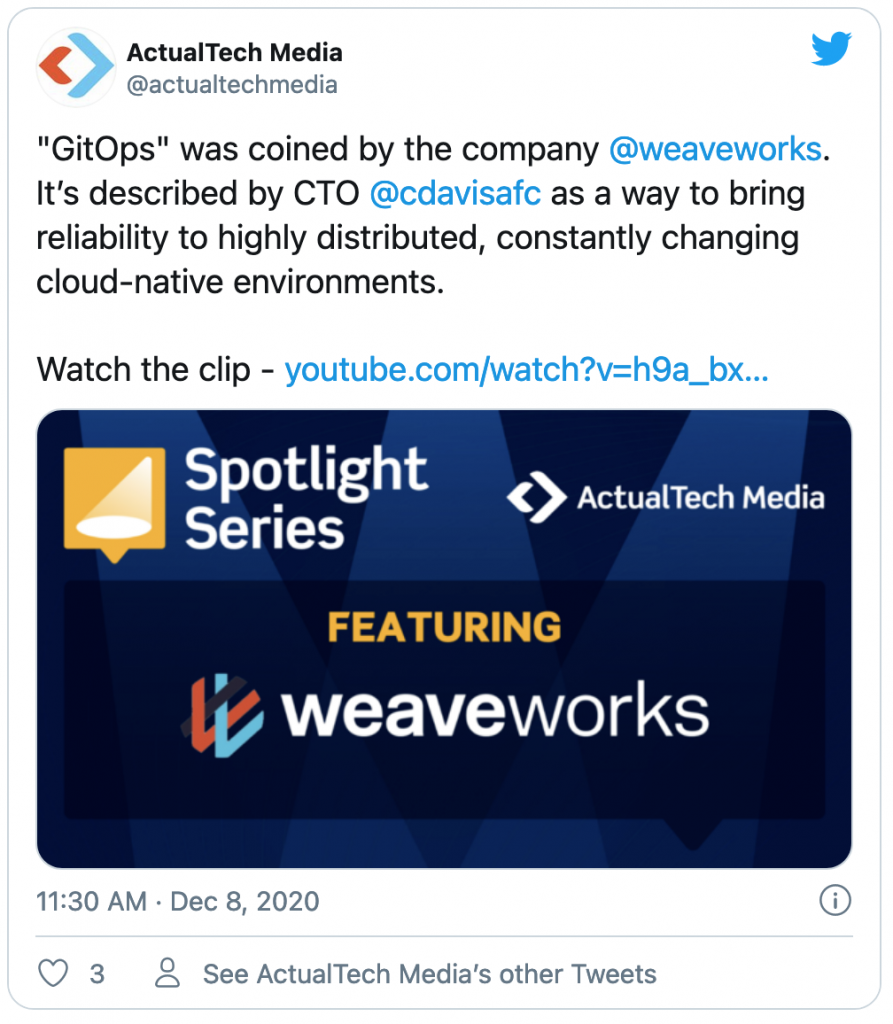 Social Media-Optimized Video Cuts
Render
Render Wants To 'Make DevOps Go Away'
When Anurag Goel, CEO of Render, says that his company's goal is to "make DevOps go away," what does he mean?
As he tells ActualTech Media Partner James Green in this Spotlight Series video chat, he means that there should be as little friction as possible between the developer and the deployed app. That involves making all the infrastructure disappear.
That's what Render does, by supplying everything but the code and the code repository.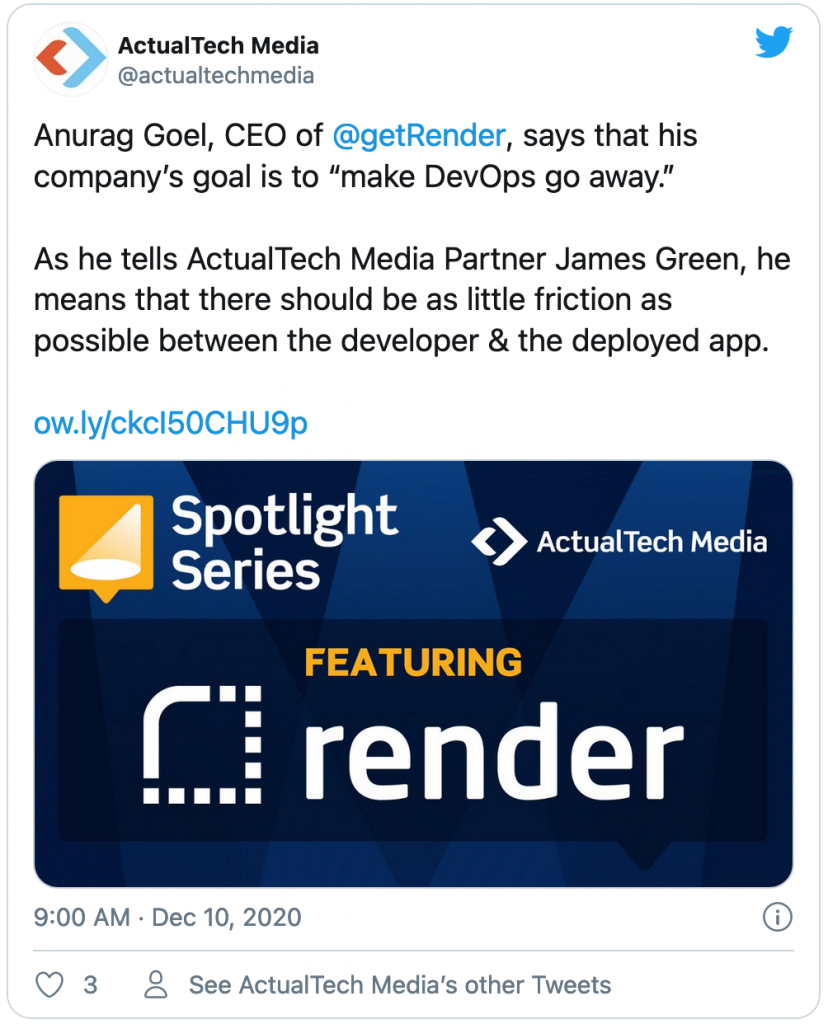 Social Media-Optimized Video Cuts
Movebot
Movebot: Like a House Mover for Your Data
Jayden Bartram has an interesting analogy for what Movebot does: they're the moving company for your data. Bartram, Movebot's CEO, talked about what exactly that means with ActualTech Media CEO Scott Lowe in this Spotlight Series video.
Movebot, Bartram explains, moves your data from anywhere to anywhere, including between on-premises systems, from on-premises to the cloud (the most common scenario), between multiple public clouds, and so on. Basically, Movebot does it all.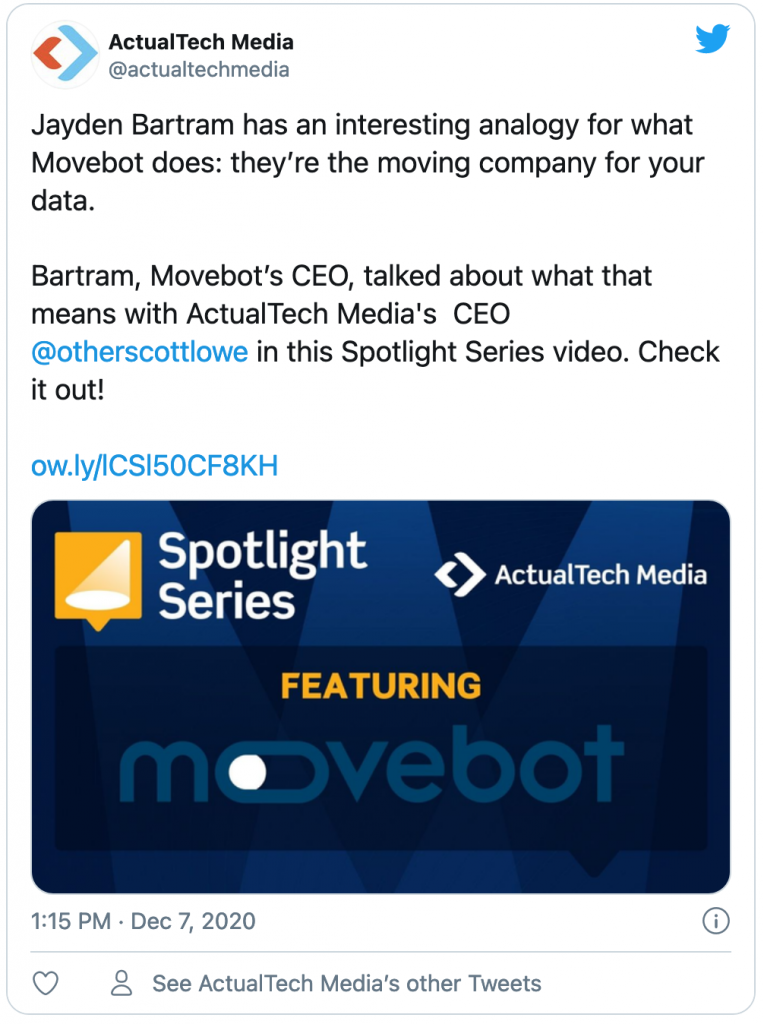 Social Media-Optimized Video Cuts
Scala Computing
Scala Computing Offers Hyperscale Simulations
So, you want to add machine learning or artificial intelligence to your most mission-critical application. Do you have any idea how that will affect the network, the application and, ultimately, your end users? With Scala Computing, you can try it out virtually before flipping the switch in your data center.
Scala Computing allows network simulation at massive scale, COO Rob Zecha explains to Scott Lowe, ActualTech Media CEO, during this Spotlight Series video. These simulations allow you to determine things like your capacity needs and where you might encounter issues before they cause problems.
Zecha says that his company offers something no other vendor does: they can simulate hundreds of thousands of endpoints or servers, making their solution compatible for, basically, any company, no matter how large.
Social Media-Optimized Video Cuts
Espressive
Espressive Brings Help to the Helpdesk
"When it came to the employee experience, it was like 1995." So says Pat Calhoun, and that's what drove him to create Espressive, which aims to modernize the tradition-bound helpdesk experience and make things better for the end user.
In this edition of the Spotlight Series of IT interviews, Calhoun, also the company's CEO, chatted with ActualTech Media Partner James Green about how Espressive has changed the game. One of its innovations is integrating artificial intelligence, or AI, into its products to assist IT departments in solving end user problems.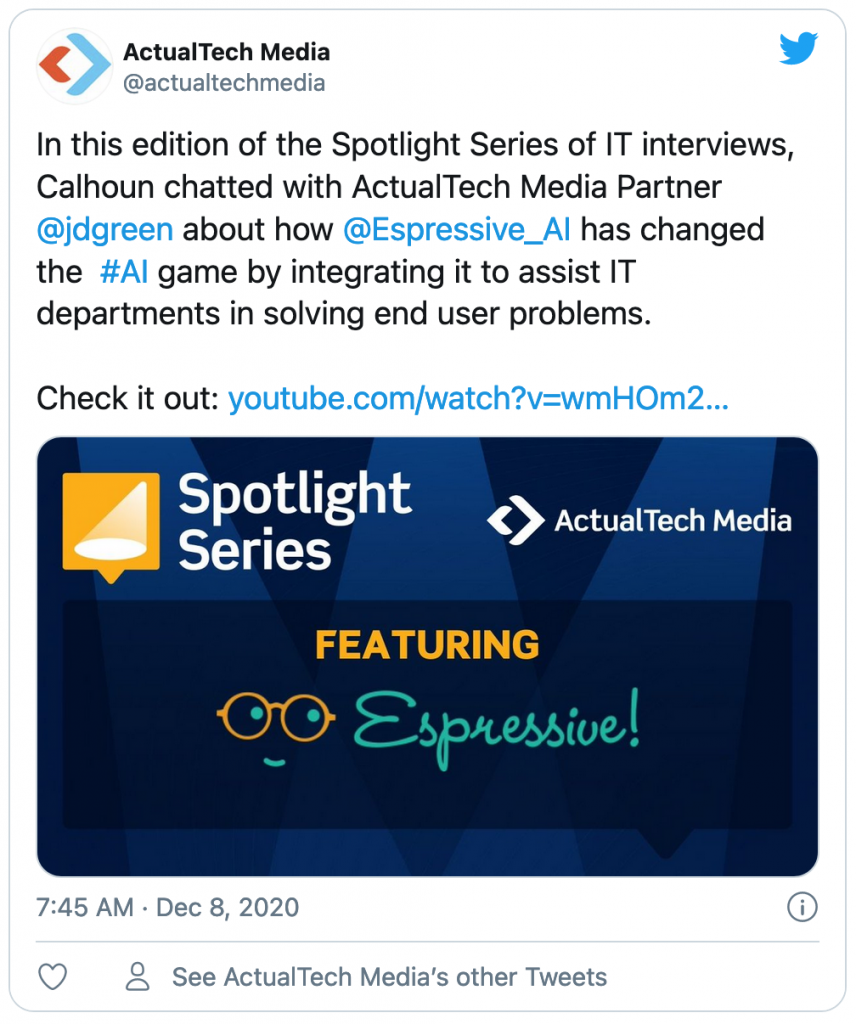 Social Media-Optimized Video Cuts
TrapX
TrapX Offers Deception as a Service
Does Deception as a Service sound like something you'd actually want? If TrapX is doing it, the answer's Yes!
In this case, TrapX is offering a way to make "honeypots" scalable and agile. Steve Preston, SVP, Strategy & Growth for TrapX, explains how it's done in this Spotlight Series video discussion with Scott Lowe, CEO, ActualTech Media.
TrapX's core service dynamically deploys integrated lures, traps, and honeypots through a single platform. The end result is that you'll not only discover vulnerabilities you didn't even know you had, but attacks on your network you may not have even been aware of will be surfaced.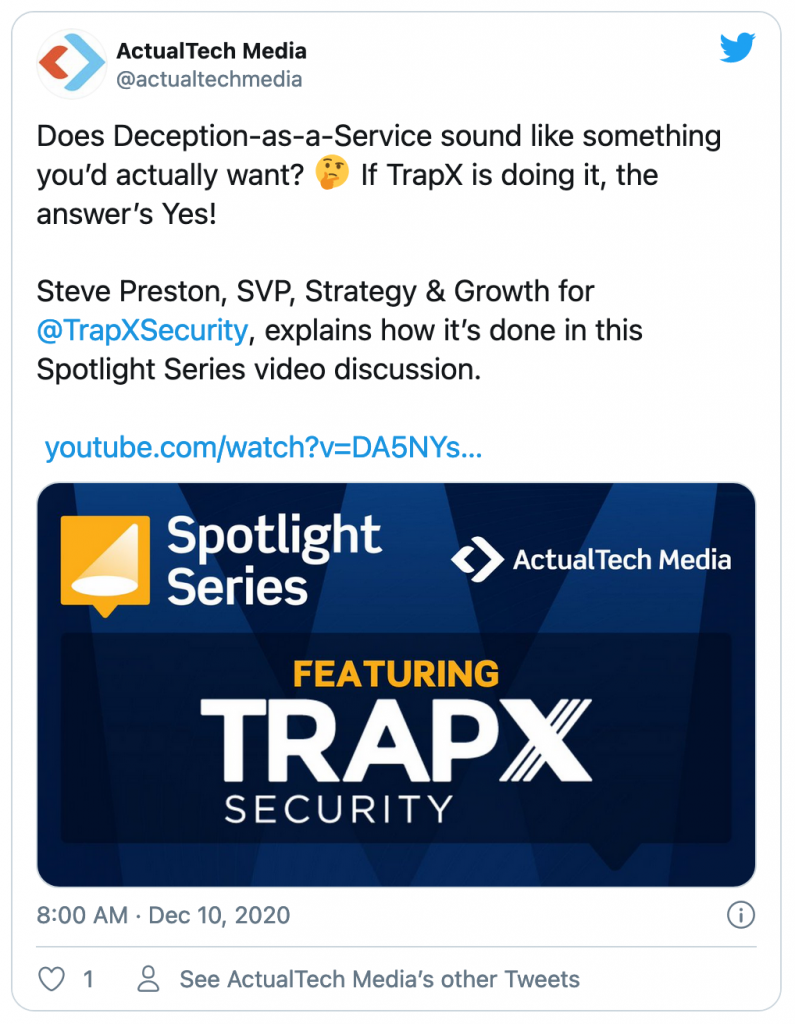 Social Media-Optimized Video Cuts
Isovalent
Protect Your Cloud-Native Environment with Isovalent
IT networking and security were never easy, but they were certainly easier back when everything was behind the walled garden of a data center. Those days are long gone, replaced by cloud-based environments in which data and application components can be, basically, anywhere.
Nowadays, understanding and securing your network is so much harder that it's impossible to do without automation. That's what Isovalent specializes in, and Co-founder/CEO Dan Wendlandt joined ActualTech Media CEO Scott Lowe for a Spotlight Series chat about this new field.
Isovalent provides eBPF-based networking, observability, and security for Kubernetes environments. Since Kubernetes undergirds so much of the cloud-native world, these are key abilities.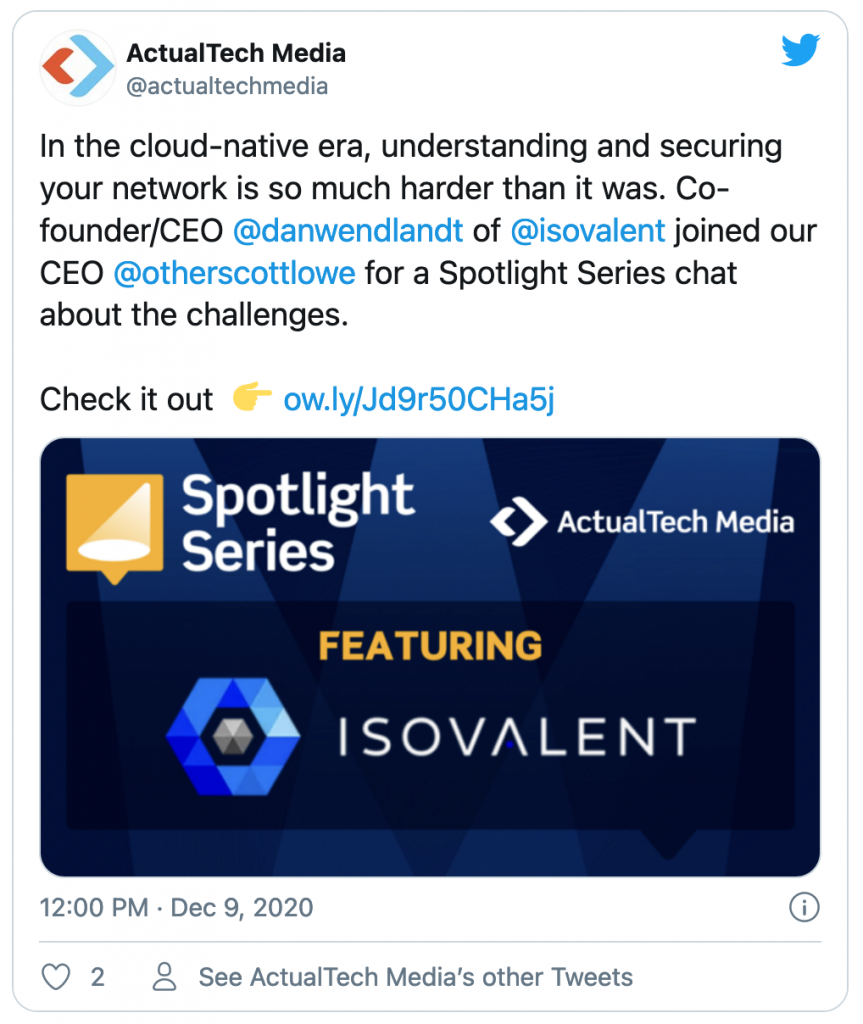 Social Media-Optimized Video Cuts
Spectro Cloud
Customized Kubernetes with Spectro Cloud
It's not exactly breaking news to say that Kubernetes is hard. And the more complex your environment—both on- and off-premises—the more difficult it to deploy and manage.
Spectro Cloud understands this, and also recognizes that your environment is unique to your business. That means a one-size-fits-all Kubernetes solution isn't what you need—you need a bespoke offering that fits your precise requirements, which is what Spectro Cloud is all about.
Spectro Cloud CEO/Co-founder Tenry Fu spoke with ActualTech Media Partner James Green about Kubernetes, and his company's approach to offering it as-a-Service, in this Spotlight Series chat. Fu explains that Spectro Cloud gives customers the flexibility through an a la carte menu to drag-and-drop components to build an end-to-end Kubernetes stack.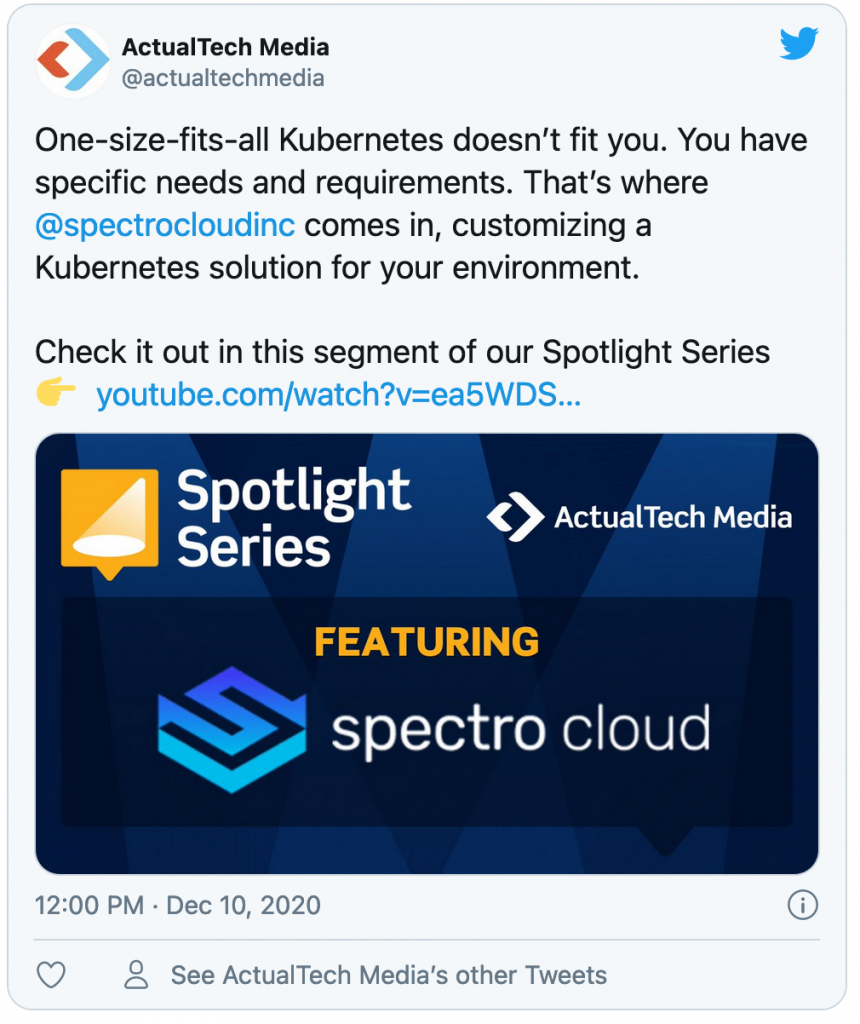 Social Media-Optimized Video Cuts
Deep Instinct
Deep Instinct: Cybersecurity Through Deep Learning
Ransomware. Viruses. Malware. Zero-day attacks. The threats to your company's systems and data are growing, and the bad guys are getting better at evading detection. The solution? To be smarter than they are.
Deep Instinct does that by applying "deep learning" to cybersecurity, using advanced artificial intelligence and machine learning to spot threats before they can take down your network or compromise your data.
Steve Salinas, Deep Instinct's Head of Product Marketing, talks with ActualTech Media CEO Scott Lowe about how the product works in this Spotlight Series video. He explains Deep Instinct's "prevention-first" approach, and its cutting-edge capabilities.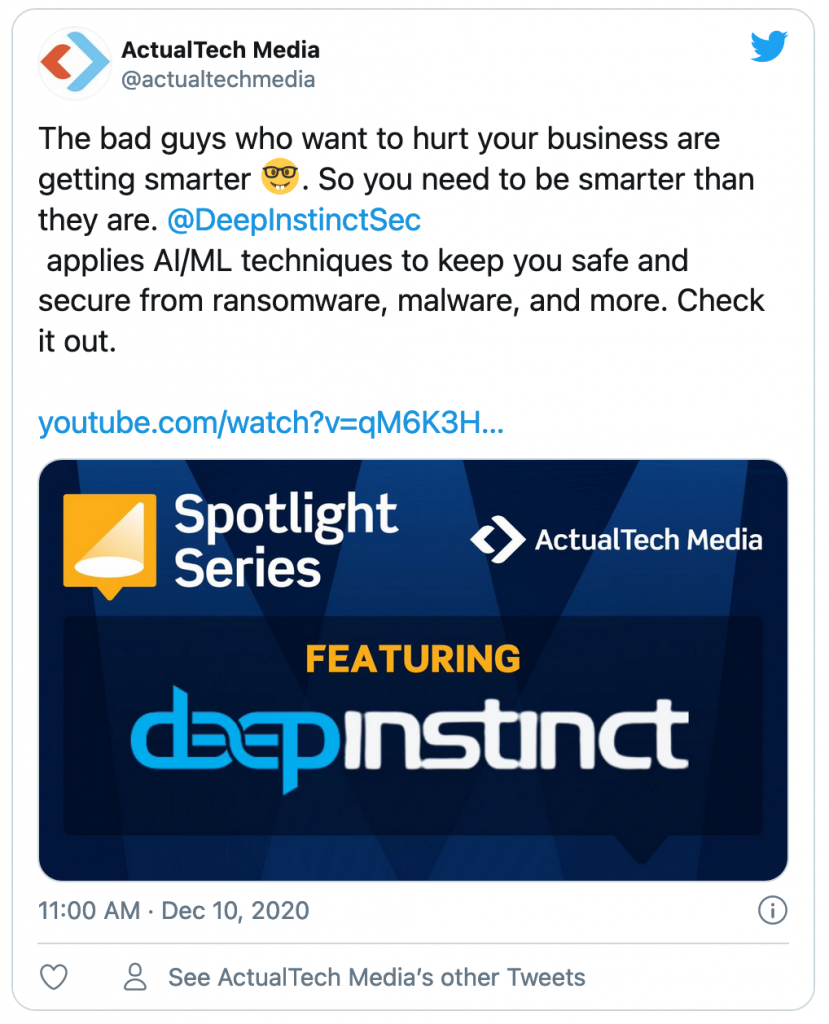 Social Media-Optimized Video Cuts
Datadobi
Move Your Unstructured Data from Anywhere, to Anywhere with Datadobi
Growth of unstructured data—i.e., file and object—is taking off like a rocket in most organizations. But all that data has to go somewhere, and most on-premises storage options are quickly filled up. Cloud to the rescue!
In this Spotlight Series video, Scott Lowe, ActualTech Media CEO, talks with Steve Leeper, head of market development, Datadobi, about his company's solution. Datadobi handles migration, replication, and protection of these unstructured datasets across heterogeneous cloud resources, including Amazon Web Services and Microsoft Azure. "We can work with all of these," Leeper says.
They also discuss their newest product, DobiProtect, which creates a "golden copy" of critical file and object data in its native format, across heterogeneous environments. It allows for quick restore of business operations that are impacted by security events like ransomware.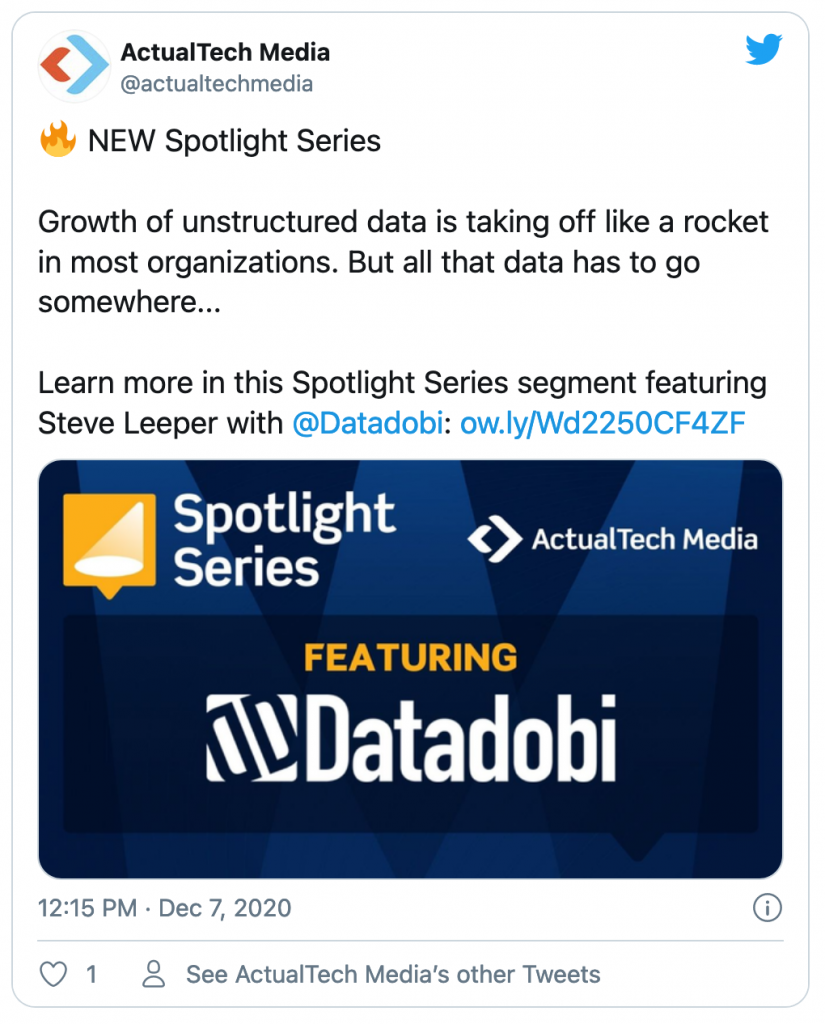 Social Media-Optimized Video Cuts