Video Interviews & Promotion for Leading IT Innovators Get Coverage on Our Spotlight Series
Our audience has an insatiable appetite for learning about new vendors and technologies. Our new Spotlight Series videos give them chance to learn about your company or your latest launch, and you get the video assets that result from the process for free!
New Spotlight Series recording days happen monthly and the next recording day is coming up soon!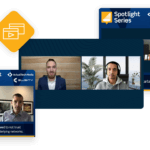 Recent Spotlight Shoot: Weaveworks
Weaveworks and the Concept of 'GitOps'
If you spend any time in IT, you've heard of DevOps. You've probably also heard other "Ops" variations, including DataOps, SecOps, and DevSecOps. Well, here's one you likely haven't come across, but one that will become more and more important going forward: GitOps.
GitOps was coined by the company Weaveworks, and it's described by CTO Cornelia Davis as a way to bring reliability to something that's "fundamentally unreliable:" namely, cloud-native environments that are highly distributed and constantly changing.
Davis discussed how Weaveworks does its magic this in this Spotlight Series discussion with ActualTech Media Partner James Green. Weaveworks leverages Kubernetes principles, which are about "constantly reconciling what's happening in real world with what you've declared you'd like to happen in the real world."