Real Opinions & Analysis From the Field
ActualTech Media's surveys and analysis reports serve as a valuable market insight and demand generation tool. Each of our surveys is handcrafted in order to meet your needs and goals. We drive hundreds of responses to the survey in order to obtain a statistically significant data set. We also create professionally designed, stunning analysis reports, linking your intended outcomes with the collected data.
Our Approach
1
We start by working in concert with your team to ensure that we fully understand your needs and goals as well as your overarching marketing messages and position in your space.
2
An ActualTech Media analyst collaborates with your team to create a series of compelling and interesting questions, which we then deploy to the world and gather responses.
3
After survey response collection is complete, ActualTech Media creates a professionally designed analysis report, ensuring that all pertinent data highlights are captured and well-analyzed.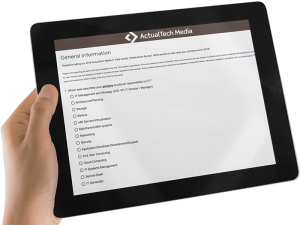 All ActualTech Media Survey and Analysis Reports include:
A detailed needs analysis with you and your team
Collaborative survey question design and creation
Hundreds of responses to ensure response validity
Recognized, expert analysis of the collected data
Professional copy and technical editing
Custom, detailed charting
Project management
RESPONDENT AUDIENCE
ActualTech Media has the ability to draw responses for small surveys that might require 200 responses to large surveys that might require 2,000 responses. Using our customized survey platform, we leverage our in-house 602,000-strong audience as well as targeted survey panels to drive quality responses to the survey.
Our respondent audience is varied and representative of what you'll find in your customers' ranks. When necessary, we also have the ability to qualify survey responses so that we can best meet your intended goals and outcomes.

51% of survey respondents say they plan on performing a significant infrastructure refresh in 2018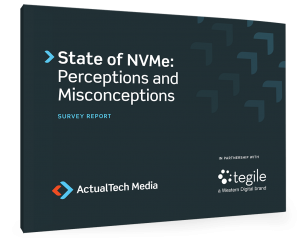 ANALYSIS & REPORTS
The culmination of this project is a custom survey report that contains detailed analysis of the survey results, linking those responses and insights to your goals and desired outcomes.
Questions are analyzed together to look for insights, and interesting outlier data that might reveal trends that are getting underway. These reports have been cited by our existing clients as "long tail demand gen assets" as they have driven significant funnel activity over a period of months.
Talk with us about your vision and let's work together to build a comprehensive survey asset the market will notice!
Our ActualTech Media Research surveys and reports details:
ActualTech Media will survey a minimum of 750 US-based IT pros to gain their insights on a series of 25-30 questions developed in collaboration with the client. These questions are intended to glean information regarding the thoughts of the respondent and the characteristics of their environment as it pertains to the subject at hand
After the survey response collection is complete, ActualTech Media will create a comprehensive analysis report around the responses
The 20-page to 30-page research report will contain background details regarding the technology as well as cross-tabulations and cuts of the data intended to help report readers better understand how their situation is reflected in the results