Multi-Vendor Webinar Lead Generation Programs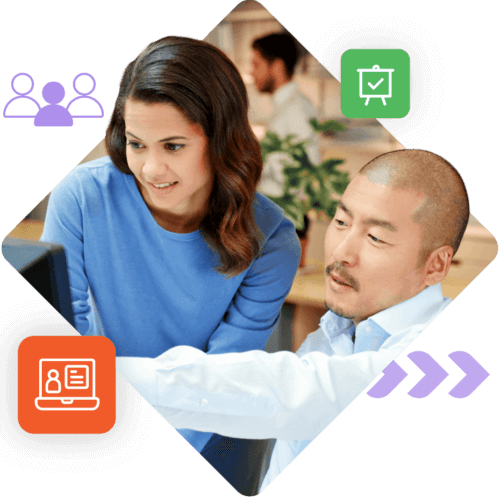 Hot-Topic Multi-Vendor Webinars
Join other leading vendors on one of our ready-made, hot-topic technology webinars! In the last 12 months we've generated over 150,000 low-CPL leads for our clients with these online events, with millions of dollars in pipeline generated.
Our multi-vendor webinar lead generation programs give you:

Turn-key multi-vendor webinars with pre-selected, 'hot-topic' themes and expert moderation
Massive live audiences with 200-1200+ minimum leads guaranteed
Opportunities to present back-to-back with the biggest vendors in your space
One-of-a-kind post-event 'hot lead' reporting and analytics
In-event console nurturing handouts, polling and trial link placements
Full-event and individual presentation .mp4 recording files for on-demand use
With technology audience lead guarantees, white-glove service and optional pre-scheduled, hot-topic virtual events ready for you to jump into, we help you hit your quarterly webinar lead generation goals with ease!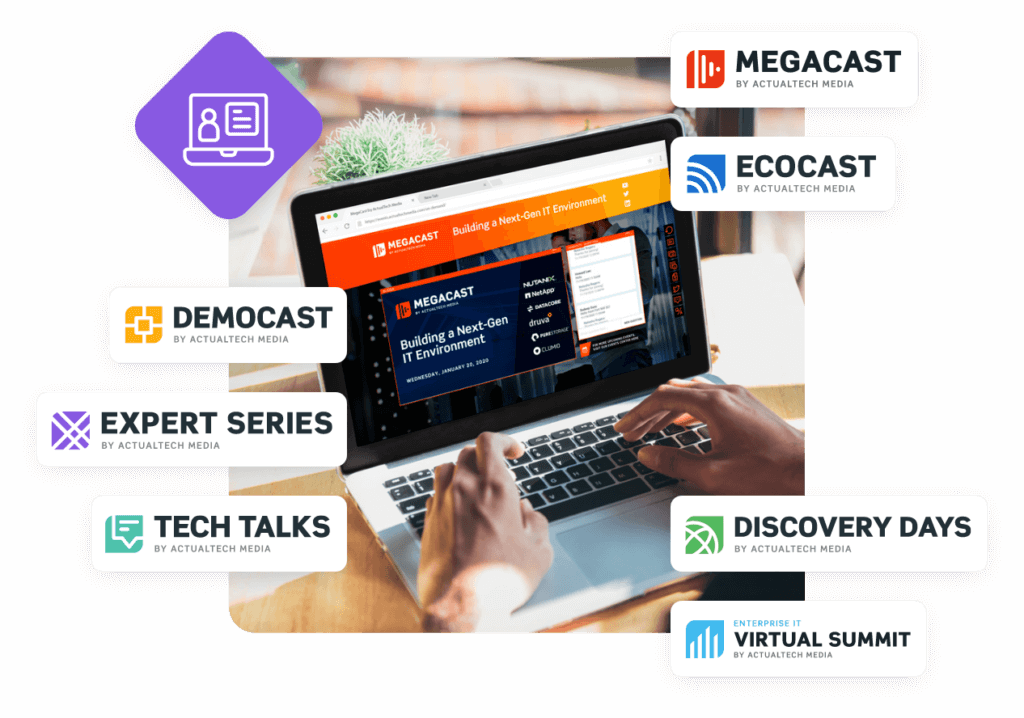 Trusted by the Technology Industry's Biggest Vendors
"I've been really impressed with your audience! The way you run your events helps us identify high-priority MQLs and pursue opportunities more quickly than other providers."
Multi-Vendor Webinar Flavors

800 Guaranteed Leads (Minimum)
6-to-8+ Presenting Vendors Back-to-Back
Higher-Level Hot Technology Topics
ActualTech Media's themed MegaCast events have been proven to be a leading way by which business and technical decision makers educate themselves on technologies and what's available to them in the market.
These multi-vendor virtual events offer viewers back- to-back presentations from 6-to-8+ vendors that have a story to tell around the theme of the event.
June 2022

MegaCast

Devising Cloud Strategies and Solutions

Featuring

Progress Software, Illumio, Rubrik, Okta, OutSystems, Red Hat

Open Slots

About This MegaCast

"The cloud" still means different things to different IT people. For some, cloud is just a way to change the IT cost model. For others, it's a way to start new initiatives without friction. For others, it's a target for backups. The point is that it can be almost anything, depending on needs. During this event, you'll have the chance to help an audience interested in cloud discover how your solution can help them define or accelerate a cloud strategy, and/or how these organizations can take steps to migrate workloads to and from the cloud.

Vendor Fit

Any vendor with a product or service that helps customers deploy, improve, maintain, or protect cloud environments, including cloud management platforms, cloud orchestration tools, data protection/disaster recovery services, security tools, cost management tools, and more.

Learn More
See More UPCOMING MegaCasts

400 Guaranteed Leads (Minimum, 150 for Vertical Events)
2-to-6+ Presenting Vendors Back-to-Back
Deeper-Level Technology Topics
The EcoCast is a smaller version of our MegaCast event and provide a variety of more targeted focus themes. With 2-to-6+ vendor participants and a minimum of 400 event registrations (150 for highly verticalized events), EcoCasts are a perfect way to, in 20 minutes, tell a receptive audience about your product or service.
May 2022

EcoCast

Identity Governance, Protection, and Administration

Featuring

Ping Identity, strongDM, Rubrik, Okta, Keeper Security

Open Slots

About This EcoCast

Identity has emerged as one of the biggest challenges for IT professionals. As the network perimeter expands to include every users' laptop, mobile phone and SaaS login, the challenges multiply for enterprises trying to responsibly manage those identities. In this EcoCast, we'll look at solutions for identity governance, identity protection, and identity administration in the modern always-on, connected-from-anymore environment. You'll have a chance to show and explain the benefits of your approach to identity to an engaged and focused audience of IT decision makers.

Vendor Fit

Any vendor of identity management tools.

Learn More
See More UPCOMING EcoCasts

1200 Guaranteed Leads (Minimum)
7-to-12+ Presenting Vendors Back-to-Back
Broader, Trending Technology Topics
Virtual Summits feature up to 12 leading technology companies from a cross-section of concentrations, including cloud computing, enterprise storage, converged and hyperconverged infrastructure, networking, security, data protection, disaster recovery, data, development/ DevOps, and more.
With a schedule intended to expose the audience to a broad swath of information, the event will consist of presentations from each vendor presenter as well as keynotes from independent experts, each of whom will share their thoughts, opinions, guidance, and advice with our audience.
July 2022

Summit

Start Now: Discovering the Critical Tools and Services That Will Define IT Through 2030

Featuring

SimSpace, Rubrik, strongDM, Zerto

Open Slots

About This Virtual Summit

The one constant in technology is change, and ever accelerating change at that. Think about how different your infrastructure looked in 2010. Now imagine where we might be in 2030. That can be hard for IT decision makers. As a solution provider, you have insights into your own roadmaps and know your vision for the future of tech better than anyone. Help an audience of IT influencers envision how their infrastructure may look at the start of the next decade. Explain your company's story about how the future could look and how some of your most advanced solutions – available now or on the near-term horizon -- fit into it. Don't miss this one-of-a-kind Summit -- an opportunity to shape the next decade of IT.

Vendor Fit

Any vendor that sells an IT-centric product or service.
See More UPCOMING Virtual Summits

200 Guaranteed Leads (Minimum)
1+ Sponsoring Vendor(s)
Broader, Trending Technology Topics
The ActualTech Media Expert Series provides clients with the ultimate 'set-it-and-forget-it' turnkey experience. We provide expert-level content, give you a sponsorship shout-out, and present a slide to our audience about your solution.
The audience gets a great depth of education across various event topics while you collect leads. No need for you to procure speakers, build presentations, or juggle schedules. We do all the heavy lifting while you focus on your goals!
May 2022

Expert Series

How AI and ML Are Transforming IT Operations

Featuring

SevOne, Independent Speaker

Open Slots

Just a quick glance at any networking log tells you that the network itself generates "big data." So big that human operators can no longer evaluate them fast enough to prevent anomalies. This makes networks an ideal use case for artificial intelligence (AI) and machine learning (ML). Performance monitoring, threat hunting, predictive analytics, and more, all accelerate to real-time, able to meet the demands of today's applications and new devices. In this session we'll explore how the new generation of AIOps teams are applying AI and ML to dramatically increase network efficiency and resilience.

Learn More
See More UPCOMING Expert Series Events

1000 Guaranteed Leads (Minimum)
10-to-20 Presenting Vendors
Broader, Trending Technology Topics
Discovery Days provide you with two distinct opportunities to engage with an enthusiastic audience eager to discover IT solutions that solve critical business and technology challenges.
Spread across two days, you will have two engagement opportunities. The first is to make a massive audience aware of your message and the second allows you engage in a deep dive session with those that express interest in learning more.
June 2022

Discovery Days

Streamlining, Securing, and Protecting Cloud, IT, and Business Operations

Featuring

Turbonomic, Kasten, Zerto, Cohesity, Metallic, Axis Security, Rubrik

Open Slots

About This Discovery Days

Continuous improvement is on the minds of IT pros and decision makers every day. They are ever vigilant for new opportunities to make their IT environments more efficient, more secure, and serving the needs of the business. From on-premises hardware to cloud infrastructure to software services, its all up for grabs in this special Discovery Days event. Join this unique opportunity to pitch and immediately nurture interested audience members. Start with an overview of your solution on Day 1 and then deep dive on Day 2 with a curated set of attendees that want to learn more about your product or solution.

Vendor Fit

Any vendor that sells an IT-centric product or service.

Learn More
See More UPCOMING Discovery Days Events

200 Guaranteed Leads (Minimum)
No Presentation Deck Needed, Interview With Your SME
Live or Pre-Recorded to Suit Your Schedule
Having trouble rounding up an internal technical resource to present on webinars? Our new ActualTech Media Tech Talks are your answer! No need to rustle up a full presentation - ActualTech Media's moderators and/or independent subject-matter experts will interview your technical person free-form and on-camera for a quick and easy solution to getting the content needed to keep your webinar program moving and your leads rolling in!
All your expert has to do is show up and have a 10-15 minute conversation that we'll record. Ready-made Q&A questions will be a part of the mix as well to keep things lively and engaging. After the recording, we handle the rest and you receive your 200+ leads right after the event. It doesn't get any easier!
June 2022

Tech Talks

How to Accelerate Business by Enabling and Protecting your Data

IT pros and decision makers love tech, but they really advance in their careers when they make a positive impact on the business. This Tech Talk will cover accelerating business by enabling and protecting data. ATM's expert moderators will interview your SME on the business benefits of solutions for making data more actionable and better protecting that data. Your expert won't need slides, demos, or a lot of prep. In a fast-paced, on-camera conversation with our moderator, we'll talk about the business benefits of your solution and the terms, statistics, and business cases that help get the buy-in of the C-suite.
See More UPCOMING Tech Talks

200 Guaranteed Leads (Minimum)
Demo Your Solution Live or Pre-Record to Suit Your Schedule
No Powerpoint Needed!
When you need to run an impactful webinar but you also need to avoid clogging the schedules of your subject matter experts, a clear and concise product demonstration provides audiences with insight into exactly what you do and how you do it, all without the need to spend hours poring over PowerPoint.
Coupled with a pre-recorded Q&A, ActualTech Media's DemoCast webinars are high impact events that create tangible opportunities through incredible audience engagement, all in a set-it-and-forget-it wrapper that makes execution a breeze. After the recording, we handle the rest and you receive your 200+ leads right after the event!
July 2022

DemoCast

Data Analytics and Business Intelligence Showcase

It's often said that data is the new oil. Just like oil doesn't provide any power when it's in the ground, data needs to be lifted out of storage and processed, analyzed, and engaged with by people or AI to reach its transformative potential. Show an engaged audience of IT professionals what your solution can do in this Democast. Whether your solution involves finding relevant data in data stores, cleaning the data, adding metadata, performing analysis or applying AI/ML, this is the perfect opportunity to reveal the power of your tools. After your demo, a short Q&A with our expert moderator helps you further position your innovative solution.
See More UPCOMING DemoCasts
Audience Feedback, Demographics & Sample Reporting
Tech Buyer Feedback One-Sheet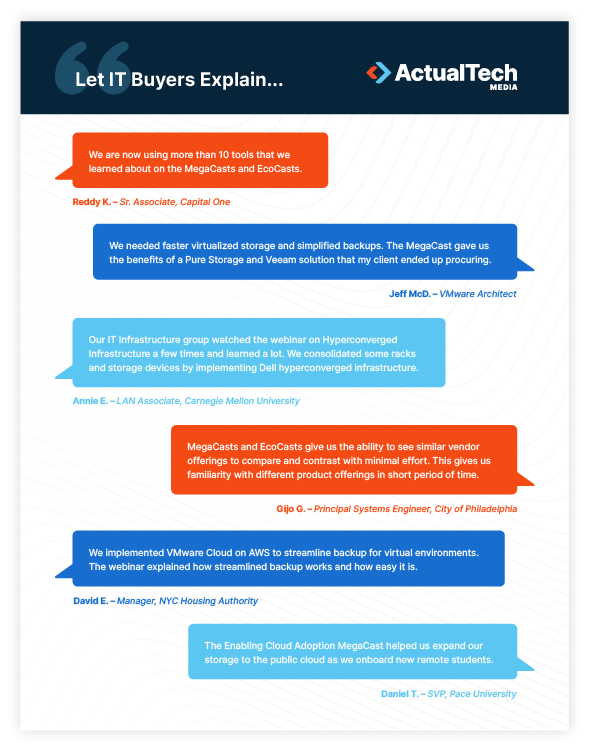 See what kind of purchase decisions our audience has made as a result of attending our webinar events.
Download
Audience Demographics One-Sheet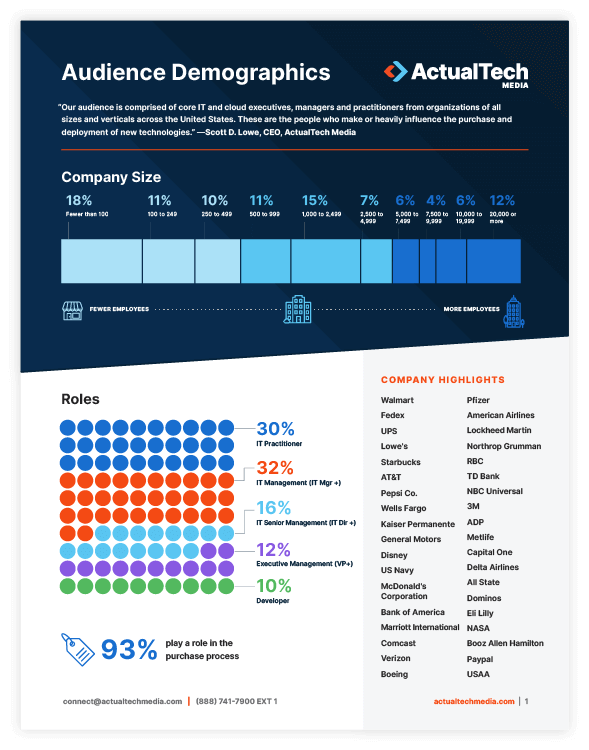 Learn more about the makeup of our unique technology buyer audience.
Download
Sample Post-Event 'Hot Lead' Summary Report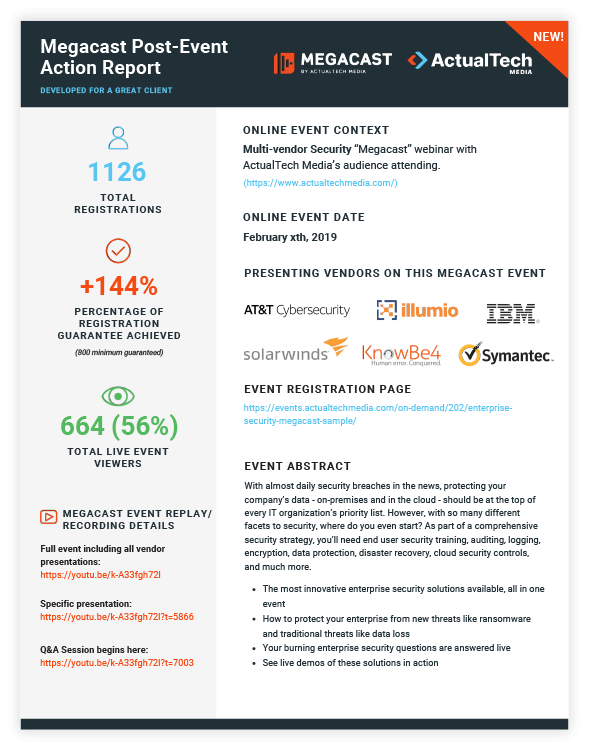 Download a sample of the industry's hottest post-webinar lead report summary!
Download
Watch a Lead Summary Video Walkthrough...
"David and Scott's field expertise translates directly into knowing the right questions to ask to really drive home the value proposition of our offering to the right buyers."
"We are now using more than 10 tools that we learned about on the MegaCasts and EcoCasts."
"The team's commitment to providing the assets by their targeted due date was extremely impressive given the amount of content involved. Wendy was extremely responsive and helpful in coordinating the back and forth between our teams. I will highly recommend using Actual Tech Media for developing content!"
Why Choose Multi-Vendor Webinars for Lead Generation?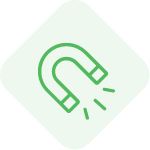 Fully turn-key, 200 to 1200+ Guaranteed Registrations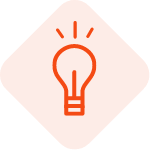 The Hottest Enterprise Technology Themes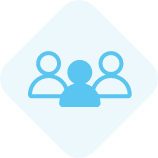 Giant Live Audiences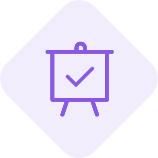 The Opportunity to Present Back-to-Back with the Biggest Vendors in Your Space
A Customized 'Post-Event Action Report' with prioritized, 'Hot Lead' follow-up flag
In-event console nurturing content asset or trial offer link placement

Detailed audience polling and Q&A results reporting
Full event and individual presentation on-demand recordings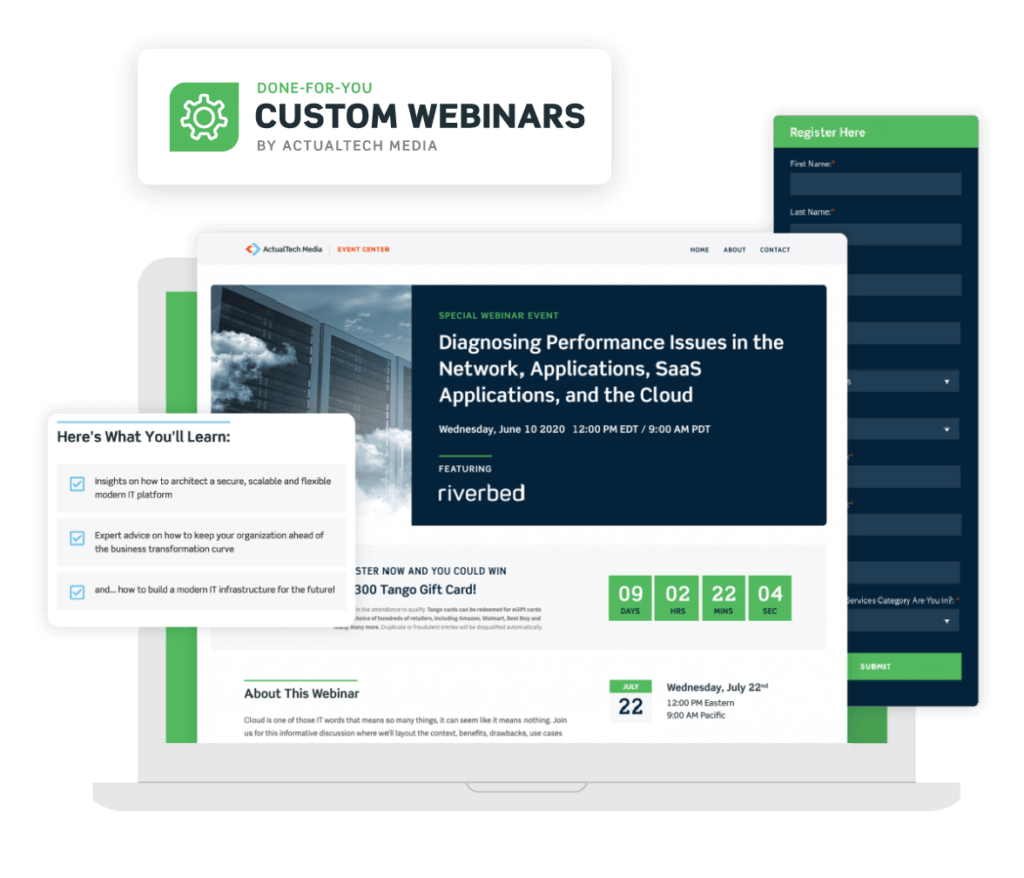 Custom Webinar Programs
At ActualTech Media, we know that regular webinars are a key piece of your quarterly lead generation programs and a fantastic way to educate a fresh audience about your solutions on regular basis.
We work with you to develop webinar programs that tap into our vast audience and help bring your message to a net-new user base.
Our Custom Webinar Programs Feature
Minimum lead guarantees of 200+ leads
Help with topics, titles, abstracts and presentations
Complete, white-glove service: just bring your deck and demo, we handle the reg page, moderation, prizes and promotion
Exclusive post-webinar lead reporting and 'hot lead' reporting
Complimentary on-demand hosting and video files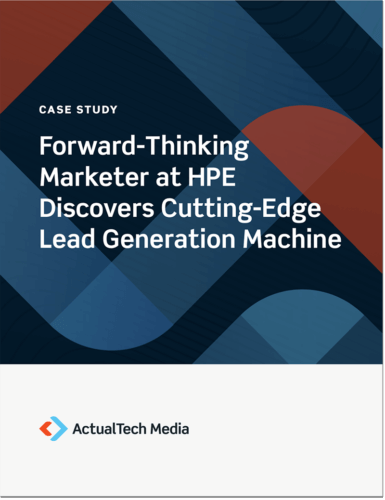 HPE Webinar Marketing Case Study
Forward-Thinking Marketer at HPE Discovers Cutting-Edge Lead Generation Machine
Technology Niches Our Events Cover
Data Protection
Systems
Integrated Systems
Networking
Cloud
Storage
End User Computing
Security
Data Management
Private Cloud
Disaster Recovery
Public Cloud
Cloud Security
Big Data
Machine Learning
Hybrid Cloud
Containers
Multi-Cloud
Kubernetes
Messaging Security
Identity Access Management
Network Security
Object Storage
Orchestration Automation & Response
Composable
Intrusion Detection
Hyperconverged
End Point Security
Backup & Recovery
Security Awareness Training
Secure Access Service Edge
Secondary Storage
Traditional Storage
SD-WAN
Edge
A.I.
Flash & NVMe
SDN
SoC
& Many More!