Powerhouse Lead Generation for the Entire Buyer's Journey
"The ActualTech Media audience is comprised of sophisticated IT professionals with diverse specialties in the data center, including architects and senior administrators, as well as senior IT managers, CTOs and CIOs. These are the people who make or heavily influence the purchase and deployment of new technologies."
Geordie Carswell
CMO, AcutalTech Media
How we Help you Capture Leads Across the Buyer's Journey
As a demand marketer, we understand you need to capture, nurture and qualify leads throughout the buyer's journey process, all at an affordable CPL. You need to seize as many high-quality opportunities as you can get to capture the attention of target prospects and stakeholders and nurture them to the marketing-qualified lead (MQL) status as quickly as possible.
ActualTech Media's events were born for this. Our now-famous MegaCasts, EcoCasts, Virtual Summits and custom events bring you huge quantities of leads in short time frames to make meeting your quarterly demand generation goals a breeze.
Our events are designed to capture leads from prospects across the buyer's journey phases: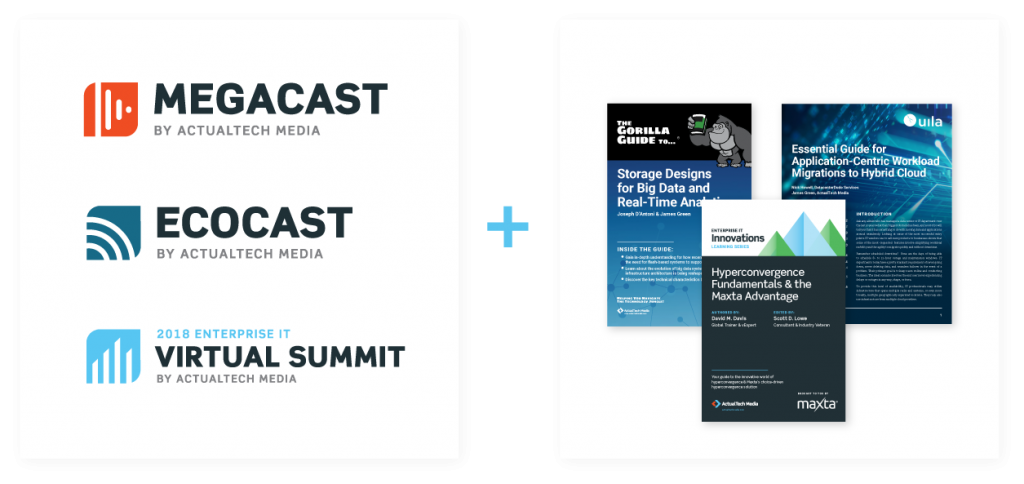 Our Lead Gen Approach: Invite, Demonstrate, Educate
To effectively generate leads, ActualTech Media reaches out to our audience of hundreds of thousands of IT professionals, inviting them to attend our multi-vendor MegaCasts, EcoCasts, Virtual Summits and webinars. These events allow you to present to hundreds and hundreds of IT prospects in one fast-paced event, and then follow up 'while the iron is hot' with content assets that further educate and nurture the interest generated during the live events. ActualTech Media's events and content go hand-in-hand to help you connect with buyers and influencers throughout the buyer's journey.
Introducing the ActualTech Media Discovery Campaign
A comprehensive influencer-driven service that combines professional video, written content, printed content, demand generation, and social awareness into a single package designed to elevate and sustain brand and technology awareness.