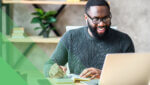 Webinar Marketing
Not Doing Tech Webinars? This Is What You're Missing
Article Summary
Webinars have become an indispensable tool for B2B tech marketers, offering a plethora of advantages that other marketing strategies might not provide. They present a unique opportunity to engage with potential leads in a more personal and interactive manner. One of the standout benefits of webinars is their high return on investment, which manifests in various forms, from generating quality leads to fostering deeper trust with customers. These online events are incredibly engaging, combining visual, audio, and interactive elements, making them one of the most effective marketing methods. The data suggests that a staggering 95% of businesses incorporate webinars into their marketing strategies, with 38% considering them essential. The rewards of hosting webinars are numerous: they generate a significant number of marketing qualified leads, build trust, establish presenters as thought leaders, foster relationships with high-value accounts, increase brand awareness, gather valuable data, and have impressive conversion rates, outperforming many other marketing channels.
Should B2B tech marketers be doing webinars? Spoiler alert, the answer is yes.
Webinars give marketers a unique edge in reaching and converting leads that other strategies don't quite have. In addition, webinars also have a high return on investment that comes in many forms, from quality leads to greater customer trust.
We'll show you seven specific rewards you'll achieve, as a B2B tech marketer, from investing in webinars that prove why webinars should be part of every marketer's strategy this coming year.
Key Takeaways:
Webinars are the most engaging marketing format
Marketers that use webinars see more high-quality leads
Webinars establish presenters as thought leaders and build trust with the audience
Companies that use webinars have a higher conversion rate
What Makes Webinars Unique?
Webinars are live or pre-recorded video presentations with clients where the presenter often discusses industry topics. So, what's the big deal about these events? Webinars are unique because of their unique blend of all marketing formats in one.
IT webinars use visual elements, audio, text on slides, images, and interactive content like polls to create one of the most engaging marketing methods available. In addition, technology webinars are often live events, which makes them more personal, as the audience can see and interact with the presenters in real time. However, webinars aren't limited to live events. They can also be on-demand for audience members to watch in the audience's own time.
Because of the unique and effective format of webinars, 95% of businesses include webinars as a key marketing strategy. In addition, 38% of companies would go as far as to say webinars are crucial to their digital strategy.
7 Benefits of Doing Tech Webinars Today
A good IT marketing team is results-driven. Being results-driven means no strategy is worth the investment unless the team can track, measure, and assign value to the return. So, what ROI of webinars makes them such a valuable part of B2B marketing?
Here are seven returns from tech webinars you don't want to miss out on.
1. Hundreds of Marketing Qualified Leads
Webinars are a valuable source of leads. For example, in the average B2B webinar, 73% of attendees become leads. This percentage is considerably higher than B2C webinars, as B2B webinars target a specific audience. That means presenters have a higher chance of attracting a target audience.
For example, ActualTech Media hosts webinars nearly every week for tech professionals. These webinar lead generation events allow attendees to learn from experts in the tech niche and for tech leaders to connect with interested IT professionals. At any given event, there are between a couple hundred to a couple thousand attendees in the tech niche.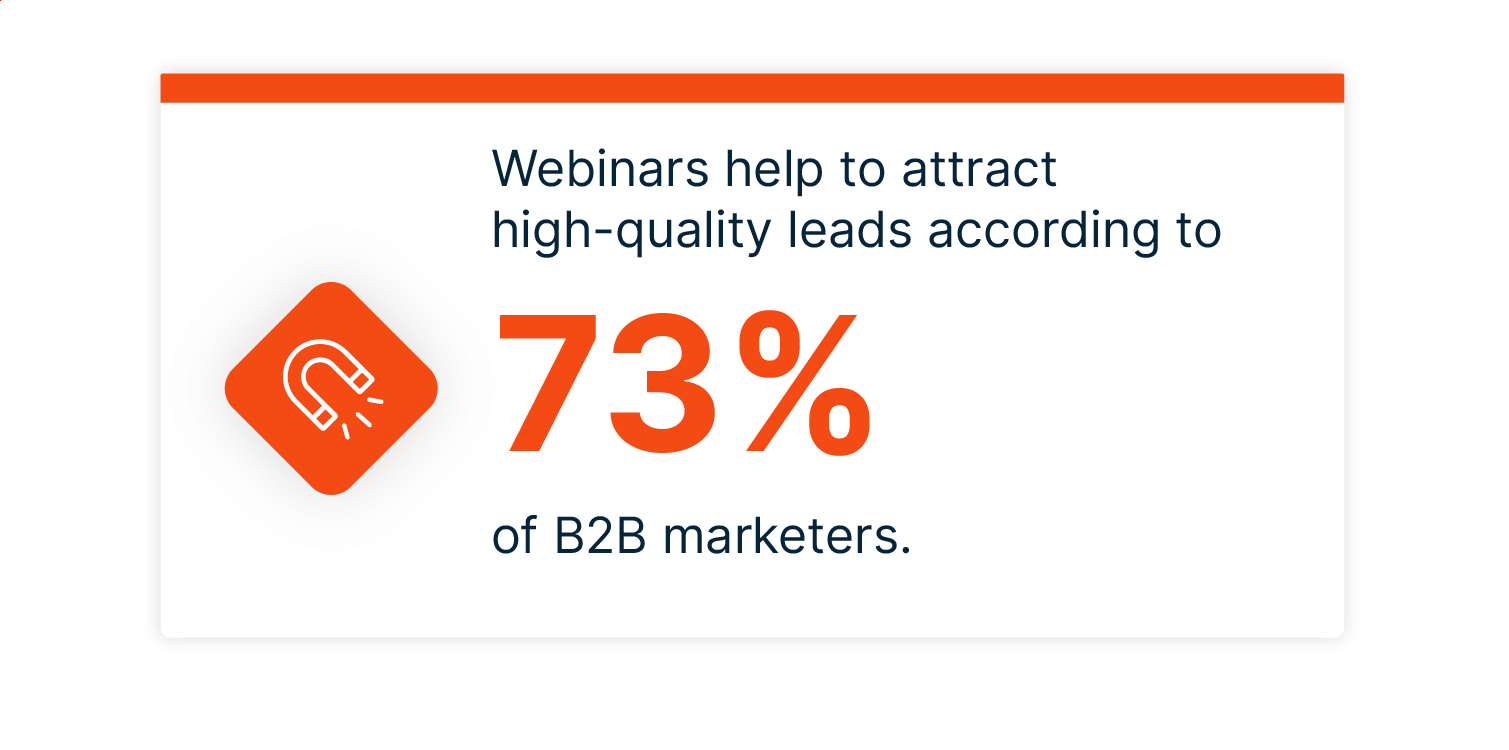 2. A Chance To Build Trust with Your Audience
Building trust is a process, much like building a house. Each interaction between marketers and their B2B audience adds another brick to that house of trust. When that house is complete, it results in customer loyalty.
Webinars are the perfect platform for building that house of trust because of the face-to-face format. Customers aren't looking at a logo, black-and-white text, or stock images. Instead, customers see a face, which humanizes the content more than other formats and helps customers trust that business.
3. The Title of Thought Leader
Thought leaders have the power to influence B2B buyers' behavior. However, the marketing industry doesn't freely give that title to anyone who shares information. Instead, professionals must earn the title that shows they're an expert in an industry.
Business leaders can prove they're thought leaders through webinars. For example, webinars offer a versatile platform for building authority for yourself through well-researched content and innovative thinking that will earn the presenter the title of a thought leader.
4. A Relationship with High-Value Accounts
Webinars are a two-way interaction. Even though the presenters do most of the talking, each audience member also has a role. The audience can leave comments, ask questions, and respond to the speaker. These interactions build a relationship with the speaker that isn't possible on other mediums that aren't live.
In addition, because attendees exchange information before attending a webinar, the presenter can continue investing in nurturing that relationship. For example, after the event, the presenter can send out emails thanking the attendees and inviting them to take advantage of an exclusive offer.
5. An Increase in Brand Awareness
Video content is more memorable than all other content formats. The movement, sounds, and images draw the audience and build an engaged viewership. In addition, humans process images much faster than words. Therefore, presenters can provide more information in less time.
Even after the event, the audience will retain the information. One report found that 80% of people can remember a video they watched in the past month. The same wasn't true for content in text formats.
If a brand wants to make an impression, video is the way to do it, and webinars provide the perfect platform for creating video content to share.
6. A Collection of Valuable Data
Personalized marketing strategies require getting to know the audience, what they need, and what they expect. However, personalizing marketing isn't easy, as 42% of B2B marketers agree that they need better strategies.
However, when done right, personalization yields incredible results. For example, 77% of B2B marketers say it builds better relationships, and half say personalization results in higher conversion rates. The power of personalization is making the marketing strategy about the customer. However, that requires knowing the customer.
Webinars help business leaders understand customers through the attendees' interaction with the presenter and webinar content. Businesses can customize future interactions through this data so the interactions are customer-focused.
7. Leads Ready for Conversion
Conversions are leads that complete the marketing goal, like signing up for a trial, subscribing to a newsletter, or downloading a digital asset.
A jaw-dropping 55% of leads at webinars convert. In addition, communication webinars have the highest conversion rate among all webinar types, coming in at 67.05%.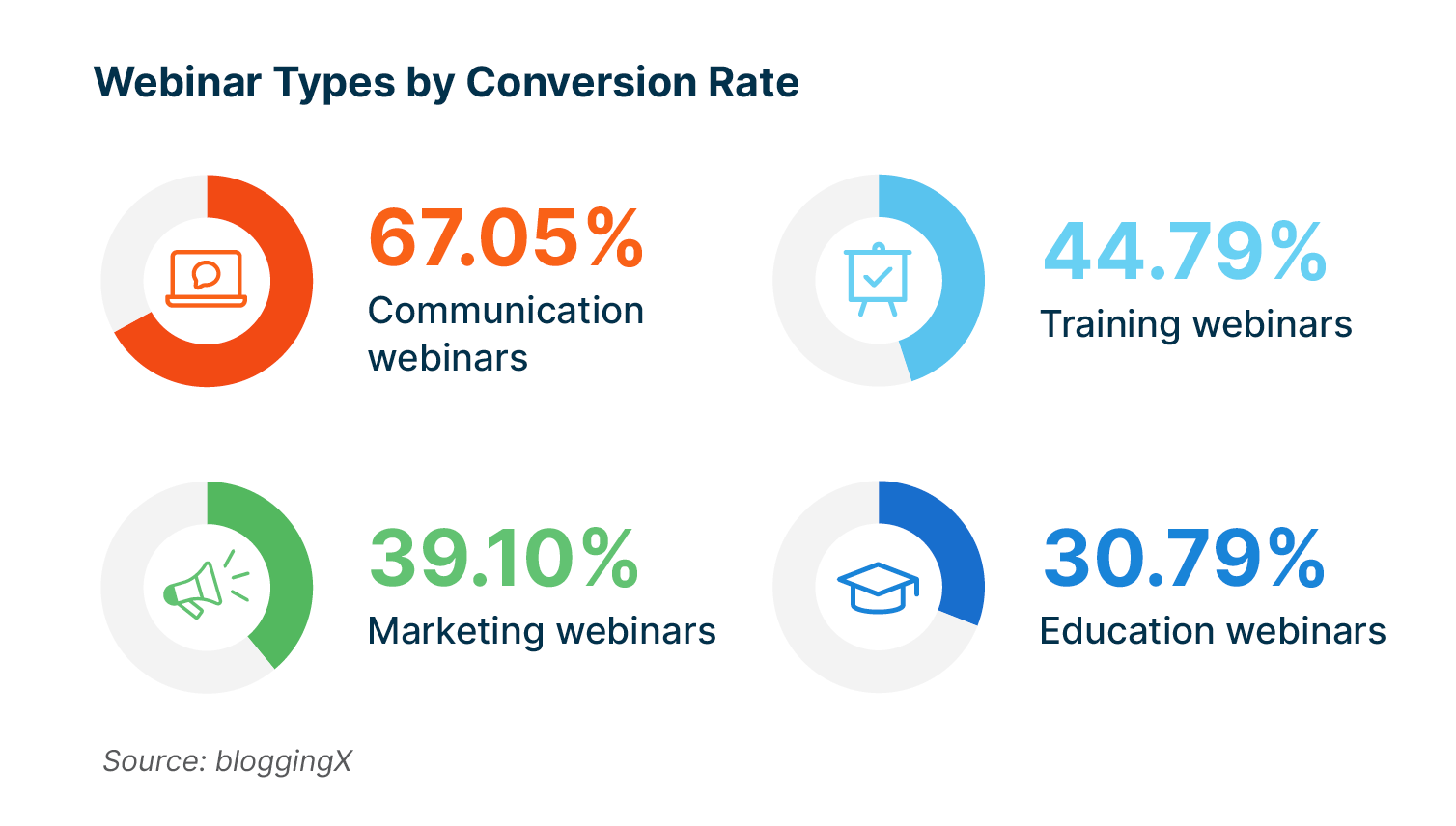 Let that number sink in compared to other marketing strategy conversion rates:
Webinars don't just beat other channels for converting leads–webinars are in a category of their own that's unrivalled by any other marketing channel.
Don't Miss Out on the Rewards of Webinars
Are you ready to make webinars a part of your marketing strategy next year and see some of these rewards for yourself?
Contact us to learn about our B2B tech webinar services.
October 2023

EcoCast

Best Practices Series: Managing Multicloud Environments

Register Now

Featuring

Rubrik, DoiT, Palo Alto Networks, VMware

Prize

Register and You Could Win 1 of 3 $300 Amazon.com Gift Cards!

MegaCast

Fixing Your Broken Data Protection and Disaster Recovery Processes and Systems

Register Now

Featuring

TierPoint, Zerto, Rubrik

Prize

Register and you could WIN 1 of 3 New M2 iPad Pro's!

Prize

REGISTER NOW & YOU COULD WIN A $250 Amazon.com Gift Card!